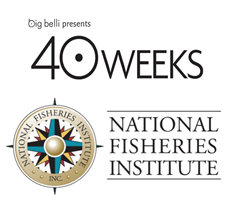 NEW YORK, N.Y. (PRWEB) July 31, 2014
Today 40 Weeks, the first film to delve into the milestones of pregnancy on a week-by-week basis, and the National Fisheries Institute (NFI) have joined together to provide essential pregnancy nutrition information, including the latest advice about eating fish to expectant mothers. On a mission to serve the health and wellness of moms and babies across America, 40 Weeks and NFI are proud to bring this film, along with a webisode and rich website content, to women through the eyes of real moms-to-be.
"When I was pregnant with my daughter, I could not find a movie to guide me through the journey and help answer the questions I had," said Dominique Debroux, Co-Producer of 40 Weeks. Executive Producer Kathryn Rolston stated, "We are thrilled to have the National Fisheries Institute sponsor this effort and bring important information about a healthy pregnancy diet, including fish, to families nationwide."
Both 40 Weeks and NFI believe knowledge is power, and providing women with knowledge about the best nutrition available to them will result in a healthier baby and mother. Research suggests that eating at least two 4-ounce servings (the size of a smartphone or a deck of cards) of fish per week can have significant health benefits for pregnant and breastfeeding women, and their developing babies. These benefits can include improved brain and eye development in babies and reduced risk of depression and heart disease for mothers. Yet, many moms-to-be are afraid to eat fish during pregnancy because of conflicting information. As a result, many unnecessarily reduce or eliminate fish from their diets. The resources available from 40 Weeks and NFI address how moms-to-be can be informed about the role of fish in a healthy pregnancy diet and easy ways to eat more seafood.
Available for the first time today, the webisode follows the real-life experiences of expecting mothers Phoebe and Vicki as they learn the truth about eating fish during pregnancy. As they are surprised to see that fish is an excellent source of the additional nutrients needed throughout their pregnancies, Phoebe and Vicki consult with registered dietitian, Elizabeth Ward, MS, RD to make convenient, delicious meals. Additionally, obstetrician/gynecologist Dr. Gabriela Siegel dispels the misinformation about eating fish during pregnancy and delivers facts for both moms and dads.
"Fish is a pregnancy diet staple because it's full of things like healthy omega-3 fats, which help ensure the best possible outcomes for mom and baby," said Jennifer McGuire, MS, RD, National Fisheries Institute. "We are thrilled to work with 40 Weeks to help clear the confusion for moms-to-be and provide access to powerful information on how to eat more seafood, especially fish rich in omega-3s like tuna, salmon and trout."
Premiering this November, the 40 Weeks full-length feature documentary will provide critical insight to pregnancy, interviewing and following moms along every one of pregnancy's forty weeks. Director Christopher Henze has assembled a group of talented and respected professionals to film, score, edit and craft the movie in an intimate and personal manner. Executive producer Kurt Engfehr ("Bowling for Columbine", "Fahrenheit 9/11", "Fat, Sick, and Nearly Dead"), casting director Lisa Singer ("The Bachelorette", "Queer Eye"), and editor April Merl ("2012: A Time for change," "The Yes Men Fix the World") join Henze in telling this story.
To ensure that all the health care information in the movie is accurate and current, 40 Weeks has partnered with the Association of Women's Health, Obstetric and Neonatal Nurses (AWHONN), the world's largest nursing authority dedicated to the health of women and babies, HealthyWomen.org, the nation's leading independent health information source for women, and the March of Dimes, a trusted organization at the forefront of saving babies for over 75 years.
To learn more, watch the videos and stay in the know about premieres and opportunities to meet the families featured in the film, please visit http://www.40weeksthemovie.com.
About the National Fisheries Institute
For more than 60 years, the National Fisheries Institute (NFI) and its members have provided American families with the variety of sustainable seafood essential to a healthy diet. For more information visit http://www.AboutSeafood.com.