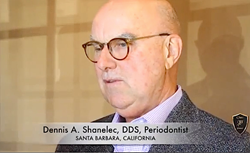 Los Angeles, CA (PRWEB) July 30, 2014
Over 630 doctors worldwide are now certified to perform the Chao Pinhole Surgical Technique®, the revolutionary minimally invasive treatment for gum recession. Santa Barbara, CA periodontist Dr. Dennis Shanelec, considered by many of his peers to be the "father of microsurgery" in periodontics was the special guest speaker at a recent Chao Pinhole Surgical Technique® training course at the Chao Pinhole Academy in Alhambra, CA. Dr. Shanelec is the recipient of the American Academy of Periodontics (AAP) 2010 Master Clinician Award.
"Dr. Shanelec addressed the attending doctors on the intersection of the Chao Pinhole Surgical Technique® (PST) and microsurgery," says Dr. John Chao, inventor of the pinhole technique. "Dr. Shanelec discussed the history of how gum recession traditionally has been treated and how the Chao Pinhole Surgical Technique® is the culmination of some the best features of traditional techniques in correcting gum recession."
Dr. Shanelec now offers the Chao Pinhole Surgical Technique® to patients at his practice in Santa Barbara. "Dr. Chao is a former student of mine, and he has taken his knowledge to a new level," says Dr. Shanelec. "So I've really come here to learn from him for one, and to support him in any way that I can in terms of the technique that he is developing, and I'm starting to apply in my practice."
The Chao Pinhole Surgical Technique®, also known as Chao Pinhole Gum Rejuvenation™ has been seen by millions of viewers on local and national TV news and talk shows across the country including a feature segment on "The Doctors" show in January 2014. The treatment is performed through one or more pinholes made in the gums using specially designed dental instruments designed and patented by Dr. Chao. "The pinholes heal quickly and are usually undetectable within a day or two," says Dr. Chao.
Doctors who are interested in learning more about the Pinhole Academy course held bimonthly and how to register may visit http://www.pinholegumrejuvenation.com or call (888) 603-2953.
Patients can find a doctor in their area who is certified in Chao Pinhole Gum Rejuvenation™ by calling (888) 603-2953 or by visiting the "Find a Doctor" listing at http://www.pinholesurgicaltechnique.com/find-a-dentist.php
#####