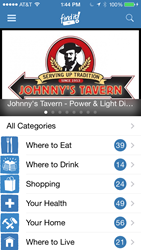 When I walked into the restaurant, I instantly received a discount on my phone!
Kansas City, Missouri (PRWEB) July 31, 2014
The leading mobile shopping app in the Kansas City metro, FINDit Video & Loyalty, now offers its 350 retail merchant clients the ability to integrate iBeacon technology to target and connect with shoppers in real time.
FINDitKC, a digital media company centered around video, expanded its reach for both consumers and clients by releasing a mobile application called FINDit Video & Loyalty earlier this year, which can be found in the Apple App Store and the Google Play Store.
"The FINDit Video & Loyalty app allows our hundreds of retail clients to reach out to their customers in real time," said Chris Olsen, Founder of FINDitKC. "There are two parts to the puzzle; Customers can check in, scan and share to earn points toward rewards. They can also stay in the loop with push notification and text deals. With iBeacons, we will take the app user experience to a new level and further simplify the process which will help our app users engage with our retail merchant clients more frequently."
The iBeacon marketing solution is powered by Moblico, a Kansas City based, in-app marketing solutions company. By connecting the FINDit Video & Loyalty app to Moblico's in-app marketing machine, FINDitKC merchants can, in real-time, identify prospective repeat customers and instantly communicate targeted offers based on customers' demographic profiles and transaction histories.
"By integrating iBeacon technology with our In-App Marketing platform and the FINDit mobile app, we can accurately connect with mobile app users within 15 feet, both indoors and outdoors," said Moblico's CEO Pierre Barbeau. "Our solution delivers truly targeted communications and content to the right person, at the right time and in the right place."
"When I walked into the restaurant, I instantly received a discount on my phone!" says Gina Del Ciello a FINDit Video & Loyalty user.
The FINDit Video & Loyalty mobile app features top regional merchants, such as Gaslight Grill, Piropos Restaurant, Em Chamas Brazilian Grill, Johnny's Tavern, Mirabile MD, AesthetiCare, Element Fitness, 68's Inside Sports, Overhead Door of Kansas City, Renner Supply, Family Tree Nursery, Locks & Pulls, Safe Harbor Roofing, OxiFresh Carpet Cleaning, 1800-Got-Junk, and many many more.
About FINDitKC
FINDit Video & Loyalty is a video guide to Kansas City, helping people find places to eat and drink, shop and play, or stay in and around the KC Metro. The website offers an inside look at hundreds of local businesses, including boutiques, fitness gyms, restaurants, hospitals, etc. For more information, please visit http://finditkc.com
About Moblico
Moblico is an in-app mobile marketing solutions provider. With Moblico, mobile application publishers deliver targeted custom one-to-one mobile experiences that increase in-app usage, loyalty and monetization. For more information, please visit http://moblico.com
Contact
To learn more about this new offering, please contact
FINDitKC
Name: Chris Olsen
Organization: FINDitKC
Phone: 816-559-7002
Email: info(at)finditkc(dot)com
Address: 8833 Bond Street, Overland Park, Kansas, USA, 66214
Moblico
Name: Pierre Barbeau
Organization: Moblico
Phone: 855 662-5426
Email: solutions(at)moblico(dot)com
Address: 1719 1/2 W 39th, Kansas City, Missouri, USA 64111
###