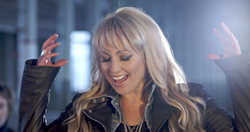 London (PRWEB UK) 31 July 2014
Earthy artist Rebecca Bains, recently released the video for her debut single 'Hard Road', featuring her and the band in some interesting places in Yorkshire history.
The video has had over 30,000 views on YouTube and has received acclaim from critics and music fans. It was filmed in a series of locations across Yorkshire and gave Rebecca and the band the opportunity to spend some time getting acquainted with Yorkshire history.
One of the locations was Bradford on a street called Lumb Lane, once a well-known red light district. Before that time, however, it had been home to a cluster of textile mills bringing a lot of work and prosperity to the city. Indeed the city was also the birthplace of the great Bronte sisters, whose works Rebecca comments are huge inspirations for her work.
"…Yorkshire has beautiful countryside featured in so many classic novels. There are miles and miles of moorland, beautiful but also very isolated and desolate…" Rebecca says. "I love Barbara Taylor Bradford's 'A Woman Of Substance' in which she describes the incredible rise and fall of industry with the changing times in Yorkshire. Me and the band have family members in the past who worked in these mills and it was very special to be able to see them and film in them before they are torn down later this year."
Rebecca's music has been described as 'emotionally earthy' by critics and music fans, and undoubtedly running through the music is a comprehension of isolation, which is bizarrely at odds with the positivity it advances. It is a combination that shouldn't work but it does, and it is very well illustrated in the video for 'Hard Road'.
"It was so eerie filming in the abandoned mill. It was early March, freezing cold and the skies were really grey. There are still holes in the walls where the old oil lamps would have once been. We imagined what it must have been like to work in there during a time when there were no rules on working hours, no such thing as minimum wage, no real heating, poor lighting, and so on. When probably the only thought to get you through the day was getting home to those you loved and being able to put food on the table. In fairness me and the band are doing what we love. We have opportunities we are incredibly grateful for, and making that video in those mills was incredibly grounding to be honest."
Rebecca describes her home county with great adoration and it is evident she has an earthiness and a strength drawn from those surroundings. In the song 'Hard Road', she refers to the road back home from a fairy tale world in which happiness and success weren't always easily obtained.
'Hard Road' was filmed partly on Lumb Lane, the famous street that had been the feature of the series "Band Of Gold" in the late 90's. Ironically Rebecca had acted in the TV show, playing a 16-year-old runaway who had turned to prostitution.
"It was only a really small part but I remember going home after filming and telling my Gran the TV show I'd been filming would be on TV within a few months and to tell all her friends to watch out for it. It never occurred to me to tell her I was playing a teenage prostitute! When it was aired she had invited all her friends round and I suddenly thought I should have said what it was all about, but bless them they all took it in good part and my Aunt actually said I looked quite convincing. I'm still not sure how to take that. Funnily enough though while we had a break in filming the music video for Hard Road, me and Paul the bass player needed to make some phone calls and there was no reception in the mill so we went outside onto the street to use our phones. We hadn't thought about it but I was dressed all in black leather with loads of jewellery on and really high-heeled boots, which because of where we were was getting all the wrong attention. We suddenly became aware loads of people were looking at us shaking their heads. Paul couldn't stop laughing. It was pretty hilarious. I couldn't help but smile to myself and look up to the sky as I think my Gran was probably smiling too, bless her."
Rebecca describes having lived with her Grandmother as one of the most treasured things in her life. Her parents worked hard and travelled a lot, and the time she spent with her Grandparents whose life experiences she learned from is something she says has undoubtedly influenced the music she writes.
The Hard Road video has been positively received across numerous websites, including YouTube, where it's already got over 26,500 views and is popular on Vimeo and Muzu.tv. It is also featured in Maverick Magazine, the UK's leading independent country music magazine, in their Maverick Tube video section.
"There's been some really great feedback about the song and the video and we're really grateful people have taken the time to listen and watch and we're so pleased too how the single is doing. It means so much to us," said Rebecca of her and the band.
'Hard Road' is the first single from Rebecca's debut album which will be released soon.
About Rebecca Bains
Rebecca Bains is a singer-songwriter bursting on the music scene with a sound that combines elements of country, pop and rock. Her songs are full of catchy melodies, provocative lyrics and the soul in her voice comes through in a musical style that marries all this in her own compositions. Whether a haunting ballad or 'bar brawl' rock, her unique sound shines through in every note.
Born in Yorkshire to a working class family, Rebecca is extremely proud of her heritage. Her mother and grandmother were Opera singers, and her father was a musician too. Rebecca's influences are diverse. There is a list of artists she admires and for a host of different reasons: Bob Dylan, Bruce Springsteen, Johnny Cash, Kate Bush, Muse, Coldplay and Pink are just a few in the list of artists who have had a direct and lasting impact on her musical style.
Rebecca's music does seem to carry a unique message of light and her live performances are uplifting events. She is also a patron of a dog charity and takes her staffy rescue dog everywhere with her. Her single 'Hard Road' is out now and various tours are planned to coincide with the release.