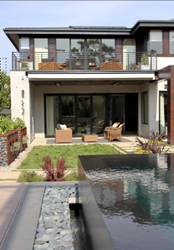 (PRWEB) July 31, 2014
For six consecutive weekends beginning August 1, Sunset (http://www.sunset.com) will open the doors of its first-ever Los Angeles Idea House. With interiors by LA's DISC Interiors, the East Manhattan Beach home exemplifies the eclectic, warm, modern aesthetic of Southern California.
The 2014 Idea House, which will be featured in the November 2014 issue of Sunset magazine, showcases timeless design blended with modern architectural detail and coastal inspiration. Its warm modern spaces and layered, textural rooms reflect a California cool vibe. Working with LA's DISC Interiors, the 4,500-square-foot 4-bedroom/5.5-bathroom Idea House features spacious, bright rooms inspired by the refined simplicity of Scandinavian design, as well as emerging design trends in LA's downtown restaurant scene, where DISC is located. The designers have punctuated the voluminous spaces with ceramics, paintings, photography, textile weavings, and handcrafted furnishings from fine artists and craftspeople from throughout Los Angeles.
Designed to take advantage of Southern California's enviably temperate climate, walls of windows in the home's kitchen and living room spaces retract to expand the rooms to the outdoors. The landscaping showcases drought-tolerant plantings and a no-mow lawn, an edible garden, an outdoor kitchen and living room, and a swimming pool.
The Sunset Idea House, located at 111 S. Meadows Avenue in Manhattan Beach, will be available to tour from 10 am-5 pm as follows. Tickets can be purchased for $18 and are available online at http://sunsetideahouse.eventbrite.com or on-site during tour hours.

August 1 – 3, Friday – Sunday;
August 8 – 10, Friday – Sunday;
August 15 – 17, Friday – Sunday;
August 22 – 24, Friday – Sunday;
August 29 – 31, Friday – Sunday;
September 5 – 7, Friday – Sunday.
Manhattan Beach architect Louie Tomaro of Tomaro Design Group is the designer of this year's Idea House. Louie and his team have created a modern, upscale home that fits right into its laid back Manhattan Beach surroundings. Sunset selected Manhattan Beach builder Mike Davis Custom Homes to build the Idea House and oversee all facets of its complex construction. Masterpeace Gardens of Redondo Beach designed the landscape surrounding the Idea House, carrying the warm, modern aesthetic of the interiors into the home's gardens.
Sunset Home & Garden Tour, August 16
Sunset will also host the first-ever Sunset Manhattan Beach Home & Garden Tour August 16, giving LA design lovers more ways to experience the best in interior and garden design. Located throughout the coastal neighborhoods of Manhattan Beach and Hermosa Beach, this self-driving, self-paced Saturday tour includes the Sunset Idea House and five distinctive properties selected by Sunset's home and garden experts in partnership with Modern Home Tours. Tickets, which cost $60 and include a wine and cheese reception and meet-and-greet with DISC Interiors at the Idea House, can be purchased at sunsetideahouse.eventbrite.com. A full list of properties on the Sunset Home & Garden Tour can be found at modernhometours.com.
"Nothing beats the Los Angeles design scene right now. With its energy and global reputation for innovation, it is the ideal location for Sunset's 2014 Idea House," said Sunset Editor-in-Chief Peggy Northrop. "Our latest Idea House and the new Home & Garden Tour will give Sunset fans and readers exclusive access to the beachside properties that exemplify the Sunset 'modern beach home' lifestyle."
Sponsors of the Sunset 2014 Idea House include AZEK Building Products, Behr Paint, Cost Plus World Market, Dolce Gusto, Eldorado Stone, Kohler, Orchard Supply Hardware, Southern California Gas Company, Smith+Noble, Subaru, Sunbrella, Sunset Western Garden Collection, Torani and Woolly Pocket.
Stay up-to-date on the Sunset Idea House and Sunset Home & Garden Tour by liking Sunset on Facebook (http://www.facebook.com/sunsetmagazine), and following @SunsetMag on Twitter, Instagram and Pinterest #sunsetideahouse. For additional details visit http://www.sunset.com/ideahouse.
About Sunset
Sunset (http://www.sunset.com) is the leading lifestyle brand in the West. Through magazines and books, events and experiences, and digital and social media, Sunset covers the West's best flavors, destinations, design trends, and innovations. Sunset engages and inspires an audience of over five million educated, active and affluent consumers every month through its five regional print editions—Pacific Northwest, Northern California, Southern California, Southwest and Mountain—as well as via all tablet devices and its website. In addition to its print and digital publication, Sunset showcases the region's unique lifestyle and noteworthy destinations through its flagship events, established home programs, licensing partners, books and International Wine Competition. Sunset is produced by Time Inc. (TIME), one of the largest media companies in the world.