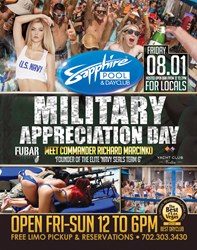 Sapphire Pool & Day Club is the place to be this Friday for Military Appreciation with host Richard Marcinko.
Las Vegas, NV (PRWEB) July 30, 2014
Come meet Commander Richard Marcinko at Sapphire Pool & Day Club.
The Rogue Warrior "Founder of the elite 'SEAL Team 6.' The most colorful, hell-raising, bomb-throwing ex-SEAL commander of them all." – Playboy.
"Founder of the elite 'SEAL Team 6'…that many believe led the assault on bin Laden's compound." – The Washington Post.
Marcinko is the founder of "the nation's first terrorist hit squad." – Newsweek.
Richard Marcinko is a living, breathing hero. He was honored with the Silver Star and four Bronze Stars for Valor, along with two Navy Commendation medals. After serving in Vietnam, he went on to start and command SEAL Team 6, the first counter-terrorist command in the Navy, and Red Cell, a high-level anti-terrorist unit whose exploits fictionalized for security and legal reasons, have formed the basis of his novels.
To show Sapphire's gratitude and support to the men and women of the nation's military services, Sapphire will offer free admission and sponsored open bar from noon to 2pm for all military personnel and locals. Thank you for proudly serving and protecting our nation.
Sapphire will be the place to be Friday! Make plans now to attend Sapphire's Military Appreciation Day this Friday sponsored by FUBAR Tequila and YACHT CLUB Vodka.
The 21,000 square-foot pool and restaurant facility located on the south side of the Sapphire club is open Friday through Sunday from noon to 6pm during pool season and, in addition to being a poolside party oasis, host entertainment and concerts much like the casino resort pools.
Sapphire, located at 3025 S. Industrial Road in Las Vegas, is the World's Largest Gentlemen's Club, now with over 100,000 square feet of topless entertainment. Get to the pool early or reserve a Cabana or Day Bed today.
Sapphire will also provide complimentary transportation from Strip locations. For reservations call 702.869.0003 or book online at http://www.SapphirePoolLV.com. And for special offers and updates, follow Sapphire LV on Twitter @sapphirelv.