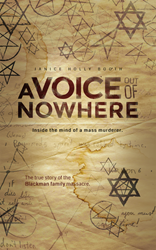 The mental health care system should have recognized the clear danger he presented to himself and others.
Philadelphia, PA (PRWEB) July 31, 2014
As reported by the Associated Press on July 27, 2014, a mentally ill man with a history of violence opened fire at Mercy Fitzgerald Hospital on Saturday, killing his caseworker and injuring a psychiatrist before being incapacitated by a shot fired by the doctor. Two guns were found at the scene and two more firearms were discovered in the shooter's apartment following his arrest. "The gunman had been ranting shortly before he shot and killed his first victim," says Janice Holly Booth, whose true crime book "A Voice out of Nowhere: Inside the mind of a mass murderer," chronicles the case of Bruce Blackman, a mentally ill 22-year-old who committed the mass murder of his family while under the influence of paranoid schizophrenia. "The gunman in Philadelphia had well-documented mental health problems, and had prior arrests for assault, drug and gun charges. The fact that he was out in the general population without effective mental health care is inexcusable and a symptom of the broken mental health care system we continue to ignore at our peril."
In her research for writing "A Voice out of Nowhere," Booth researched hundreds of mass murders committed by people with mental illness and in almost all cases the signs of impending violence were ignored or minimized. "That's almost understandable if it's a person like Blackman, who had never been violent and whose schizophrenia came upon him fairly quickly," says Booth. "But in this case of a 49-year-old mentally ill man with a criminal history, the mental health care system should have recognized the clear danger he presented to himself and others."
In the same AP article that reported the shooting, District Attorney Jack Whelan is quoted as saying, "If the doctor did not have a firearm (and) the doctor did not utilize the firearm, he'd be dead today, and I believe that other people in that facility would also be dead."
Booth points to the problem of community mental health care as being grossly inadequate for people who have severe mental illness. "We will continue to watch scenarios like this play out across our television screens and in newspaper headlines," she says, "unless we address the current failures in our system that will make our communities safer for all of us, including the mentally ill who need more help than we are currently providing."
About Janice Holly Booth: Born in British Columbia, Janice Holly Booth is a former non-profit CEO and avid solo traveler. Her first book, published by National Geographic, called Only Pack What You Can Carry, chronicles decades of her adventures and misadventures while travelling alone. Her most recent book, "A Voice out of Nowhere: Inside the Mind of a Mass Murderer," is an Amazon #1 best-seller. She currently lives near Charlotte, North Carolina.