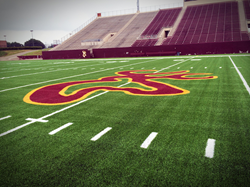 Not many companies, let alone turf companies, can say they have a ten-year relationship with the same customer.
Deer Park, Texas (PRWEB) August 01, 2014
After ten years, Hellas Construction has returned to Deer Park, TX this summer to install their Matrix® synthetic turf at Deer Park High School's Abshier Stadium to provide Deer Park ISD and its athletes with a new, performance-enhancing surface. The development was finalized on July 3, 2014.
"We are very excited to have our new Hellas field in Abshier Stadium. We first came into contact with Hellas 8 years ago when we installed our first synthetic turf and were very pleased with the job they do," Deer Park High School Head Football Coach Chris Massey said. "The E-layer system that was installed with our first turf made the conversion from old to new fast and provides a smooth playing surface that will last for years. This, along with the added protection the E-layer provides made Hellas a clear choice for Deer Park."
Hellas installed their 46 oz. Matrix synthetic turf, giving the Deer Park Deers the privilege of playing on the same surface used by the Dallas Cowboys, the University of Texas at El Paso, the Gopher/Warrior Bowl at Grand Prairie, Texas, and the University of California at Berkeley. The Matrix® synthetic turf system is known across the country for its long life, temperature reduction, traction-enhancing characteristics, and playability optimization.
President and CEO Reed Seaton, who alongside his partner control 70% of the largest sports construction firm in America, expressed how proud he is of holding on to its customers now that it has entered its second decade of business as the fastest growing company.
"Not many companies, let alone turf companies, can say they have a ten-year relationship with the same customer," Mr. Seaton expressed. "In an industry that is majorly owned by private equity, the ownership of those companies changes every five to seven years."
Deer Park ISD members also commented on the convenience of Hellas' ability to do a job from start to finish without the need for subcontractors.
"The people at Hellas have been very helpful along the entire process and would take the time to answer any and all questions we might have had," added Coach Massey. "If you are in the market for new synthetic turf, I highly recommend you consider Hellas Construction."
The Deer Park Deers will play their first home game against the Brazoswood High School Buccaneers on September 5, 2014 at 7 p.m. Hellas also performed turf installations at Brazosport ISD's Hopper Stadium in 2004.
About Hellas Construction
Headquartered in Austin, Texas, Hellas Construction is a nationwide contractor with a strong reputation for delivering premium-quality sports construction projects across the United States. Hellas has the ability to custom-manufacture and install proprietary brands of synthetic surfaces for field sports, running tracks, and tennis courts, by controlling all related operations. For more information, visit hellasconstruction.com and matrix-turf.com or follow them on twitter and facebook.
About Deer Park ISD
Deer Park Independent School District is a public school District located in Deer Park, Texas, but also includes parts of neighboring Pasadena. Total enrollment is approximately 12,300 students. Deer Park ISD has a total of eight elementary schools, four Junior High schools, and three High Schools. For more information, please visit http://www.dpisd.org.