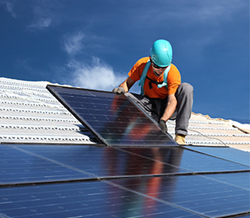 (PRWEB) July 31, 2014
With solar energy companies expanding into California's booming economy in the past decade, it's no wonder why local utility companies are fearing they will lose loyal customers.
Solar energy, or electricity through the use of solar panels, is a cheaper and environment friendly approach to electricity. According to California Solar Statistics, California is the leading state for installing the energy saving panels, and with a valid reason.
Solar companies like Green NRG Inc. threaten the status quo of nonrenewable energy companies such as Edison Electric Institute. Recent merges in the solar industry pose a threat to competing companies like Edison.
Mergers in any industry prove the demand and advancement in that market. A recent merge that has people buzzing between Green NRG Inc. and Solar World LLC will make it hard for the average consumer to choose their local utility provider over a self-producing green energy system. Solar expert and CEO of Green NRG Inc. Yaar Kimhi explains.
"With our recent merger, we're now able to offer comfortable leasing and financing options for Solar customers offering cheaper alternatives to customers without any financial commitment upfront, offering $0 down making it hard to not switch over to green energy."
Such offers combined with known government incentives and tax rebates put utility companies in financial worries.
Barclays bank shared the same concern and decided solar is a big enough threat to the status quo that it downgraded bond ratings for electric utilities. Rate hikes and charge shifts are how utility companies plan to stay afloat with the new competition in the Solar panel sector. Stephanie Donovan, spokeswoman for San Diego electric provider SDG&E when asked about such rate trends said, "That's why we're trying to do this on a gentle glide path."
One of the leading solar companies in the industry based in California, "Green NRG" known for its U.S. made products, is best known for its full-service approach which provides state of the art solar panels at affordable prices and customized designs for customers fitting their unique energy needs. They also obtain the permits for the job and will work to find any kind of federal, state or local tax rebates and incentives for their clients.
But Kimhi doesn't stop there; each product comes with a 30-year warranty, something he's comfortable with since his return rates are lower than 0.1 percent, he said.
"With state of the art equipment and experience you can trust, Green NRG puts smiles on customer's faces and more money back into their pockets."