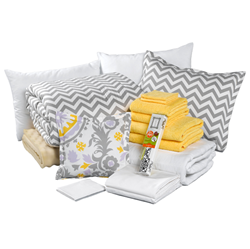 Made in America was the driving factor to ensure hands on quality control from creation to production to end result. - Caroline Eager, President of American Made Dorm & Home
Louisville, KY (PRWEB) July 31, 2014
Millions of students are heading off to college campuses next month to begin or return for the school year ahead. American Made Dorm & Home, the purveyor of premium made in the USA college bedding, will help them make their dorm a home as soon as they arrive. Offering everything from dorm bedding to bundles, accent pillows, shams, college rugs, sheets, curtains, towels and easy velcro mount dorm headboards, American Made Dorm & Home's extensive assortment makes it easy for students to add a stylish design to their new living space when they head back to school.
Convenience, quality and design were all inspiring factors when Caroline Eager created American Made Dorm & Home in 2011, a concept that came after personal experience spending a frustrating August afternoon in search of bedding sized twin XL for her son's freshman move-in day. After multiple trips to big box stores that offered little in terms of quality or convenience, Eager was inspired to develop a high quality alternative.
"Kids are hard on their dorm bedding and I wanted to produce a line of comforters, duvets and bedding accessories with attention to style and quality. Made in America was the driving factor to ensure hands on quality control from creation to production to end result," said Caroline Eager, President of American Dorm & Home.
For college students looking to outfit their dorm for the school year ahead, American Made Dorm & Home's dorm bedding bundles provide a one-stop solution. Not your average "bed in a bag," these bundles are extremely well made to last all four years of school and beyond. Available in a dozen different styles, American Made Dorm & Home's bundles include a twin XL comforter, a matching sham, a coordinating accent pillow, pure cotton sheets, a cushion-top microfiber mattress pad, a hypoallergenic bed pillow, a foam topper and a six piece pure cotton towel set that can be monogrammed. These dorm bundles can be shipped directly to boarding schools and colleges, saving both time and money for students and their families.
For students seeking extra storage space for their dorm rooms, American Made Dorm & Home has partnered with Dorm Cubby of Birmingham, Alabama to offer "over the bed" and "over the desk" storage unit configurations that create extra space and help with organization. American Made Dorm & Home's dorm headboards, which attach to the wall with velcro strips offer another solution for dorm rooms of limited size.
"Students have a huge transition to make when leaving their home," said Eager. "Making their dorm room look and feel like home is extremely important in easing homesickness and aiding in a smooth transition." As students begin to make their home for the next nine months in what is generally a small and cramped area, added design elements such as a headboard, desk cubby or stylish bedding are important factors that will make this transitional process easy, enjoyable and comfortable.
About American Made Dorm & Home
American Made Dorm & Home is the premier retailer and manufacturer of high quality, trend driven, made in the USA dorm bedding, dorm bundles and dorm décor. A certified Small, Women-owned, and Minority-owned (SWaM) Business, American Made Dorm & Home was founded in 2011 by Caroline Eager and is headquartered in Louisville, Kentucky with production facilities in Sylva, North Carolina. For more information and to view American Made Dorm & Home's complete assortment of dorm bedding and accessories please visit http://www.amdorm.com.