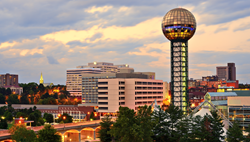 Best Places to Live in Tennessee
Knoxville, TN (PRWEB) July 31, 2014
The 2014 Boomsday Festival in Knoxville is back and it's bigger and better than ever. The residents of Knoxville neighborhoods and Tellico Village are getting ready for another exciting Labor Day weekend. On Saturday, August 30th at Volunteer Landing on Neyland Drive, a patriotic celebration to honor the men and women who proudly serve or served in the US military will commence with live entertainment along with the biggest firework show this side of the Mason Dixie Line. Knoxville is also spirited college football town and with the season kicking-off for the VOLs the same weekend, this is sure to be a celebration of mass proportion. What a great time to discover why Knoxville is one of the best places to live in Tennessee.
Boomsday 2014 is all about "Celebrating Knoxville." All the eats, musical acts and shopping featured at the festival are local. Live music on three stages, including, street entertainment, on-the-water exhibitions, fun and educational kids' activities, and much more. Gates open at 2:30pm, entertainment starts at 3pm, fireworks at 9pm with more entertainment to follow.
Here a quick preview of some of the events at the 2014 Boomsday Festival:
LIVE MUSIC: The Black Lillies, who recently were named among Rolling Stone Magazine's "10 New Artists You Need To Know: Summer 2014. Rodney Adkins, an East Tennessee native that has impressed the country music scene for the past few years.
HONORING OUR HEROES: There will be a designated area to honor those who have or still serve our country and all military personnel will receive free entry.
FOR THE KIDS: Fun and educational activities for kids of all ages. Kids 12 and under will receive free entry.
SHOPPING & FOOD: Local merchandise and cuisine from Knoxville's best
As one of the best places to live in Tennessee and with plenty of homes for sale in the Knoxville area, Tellico Village is a favorite with retiring Baby Boomers. Resting at the foothills of the Great Smoky Mountains and on Tellico Lake, this established master-planned community has an extensive list of amenities centered around a good life lived outdoors.
Lakefront property at Tellico Village begins in the mid $200k's. Folks are attractive to Tellico Village because golf memberships are not mandatory. Amenity privileges are paid for a la carte. Property owners only pay for what they use of the sports amenities like tennis courts and golf courses, full service boat marina slips and lakefront yacht clubhouse with dining, just to name a few. In tune with the trends, Tellico Village opened 8 new outdoor pickleball courts this summer to keep up the fastest growing sport in America.
Protected by the Tennessee Valley Authority, Tellico Lake is one of the cleanest lakes in America and 75% of land around the lake will never be developed, ensuring private and peaceful country living that drowns out the noise often associated with busy areas. Tellico Village and Knoxville neighborhoods on Lake Tellico offer waterways leading from the Little Tennessee River that connect to Fort Loudon Lake allowing easy boating access to waterfront dining and shops. Homes for sale in older Knoxville neighborhoods begin in the mid $100k's. The upcoming 2014 Boomsday Festival is an excellent time to feel the excitement of Knoxville and explore Tellico Village homes for sale in the Knoxville area.
Check out Tellico Village's welcoming Discovery Package and learn what thousands of people already know. Knoxville is one of the best places to live in Tennessee.
About Real Estate Scorecard:
Real Estate Scorecard writes unbiased real estate reviews providing in-depth information about popular gated communities in Florida, Georgia, North Carolina, South Carolina and Tennessee, all in an effort to help people discover where to retire in the Southeast.
Website: http://realestatescorecard.com