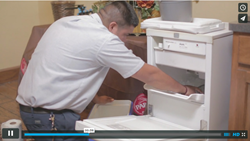 Carrollton, TX (PRWEB) August 01, 2014
The ice maker is arguably the most important part of an office break room. On duty around the clock to keep sensitive foods chilled, ease pains in a hospital setting, or quickly cool a can of soda for an afternoon pick-me-up, many rely on this critical appliance every day. And when the office ice maker is down, the impact can be catastrophic.
To avoid unnecessary service calls and outages, office-coffee service industry leader Parks Coffee recommends regular recurring maintenance. "Typically our cleaning process will be every six months, but depending on the type of water that you have, and the area that you're in -- how hard your water is, how much your usage is -- that will dictate the recurring for the cleaning process," explains Corporate Trainer Shayne Dillion. "If it doesn't happen properly, you're going to have dirty ice; you're going to have material in your ice you don't want."
Branding Manager Clay Parks says, "With the ice maker cleaning group, all the people are factory-trained. You can't simply put a solution through, and put the ice maker on 'CLEAN'. It doesn't do it. You need to take parts off, you need to use commercial solutions, you need certain run times; know which areas to scrub." The Guardian Water Systems team at Parks Coffee goes through rigorous training, and technicians are certified by Manitowoc®.
"What we're going to do is remove all the ice from your ice machine. We're going to clean and sanitize the bin," affirms Guardian Water Systems Manager Lonnie Stewart. "We're going to remove the circulating hoses from your ice machine, clean the hoses. Remove your reservoir, clean out the reservoir. We're going to clean the coils on the machine, door gaskets, all internal lines."
Regular filter changes and cleanings are important for water coolers and coffee brewers as well. "When you think about coffee, coffee is 99.9% water. We want to make sure that the equipment is cleaned properly, because that's going to affect the taste of our product. We roast and grind all of our own coffee here at Parks Coffee, it's so important that we give our customers the cleanest possible equipment because it's going to affect their experience with our coffees," says Shayne.
Learn more about the Guardian Water Systems subsidiary of Parks Coffee in a new video released today, "Protecting Your Liquid Assets with Guardian Water Systems."
Parks Coffee (Parks & Co / ProStar Services) is a market leader in the coffee service industry, Parks Coffee provides brand name products such as Starbucks Seattle's Best, FLAVIA, and Keurig. The company has won such awards as National Automatic Merchandising Association's (NAMA) Coffee Service of the Year award, and Parks Coffee Owner/President Randy Parks has earned the National Coffee Service Association's (NCSA) Operator of the Year award and the FLAVIA Outstanding Distributor Award.
Media Contact: Beth Seeber, 8008897827, bseeber [at] prostarservices [dot] com