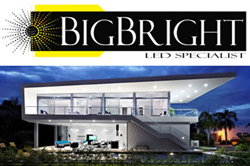 The trucks will be specifically designed in specific sizes and specifications that can be used to reflect the branding and corporate identity of the advertiser accordingly.
Petaling Jaya (PRWEB) July 31, 2014
This launch will be a significant expansion for BigBright LED to further provide the best media for advertising and marketing in Malaysia. BigBright LED is one of the pioneering leaders in outdoor advertising. The agency is one of the most prominent agencies and media owner in the advertising industry with more than 15 years experience in various large scale and mega projects.
In this round of expansion, BigBright LED will be focusing in LED trucks for advertising. This media is one of the most modern methods of outdoor advertising which has been proven to be extremely effective. It has a high impact among the audience as the location can be changed as and when necessary. Furthermore, LED Trucks are more captivating and increases the curiosity among the general public. Unlike conventional billboards, the content in LED trucks can be changed as it is controlled via a control center over the internet.
BigBright LED will be supplying LED trailers in whole for Malaysian advertisers. The trucks will be specifically designed in specific sizes and specifications that can be used to reflect the branding and corporate identity of the advertiser accordingly. There are several types of LED trailers available from BigBright LED which can be used for all types of advertising and messages.
All the LED trucks that are offered by BigBright LED have gone through several levels of testing for quality assurance and to ensure reliability, robustness and effectiveness. Besides that, the LED's clarity, color balance and other elements are all specially made to suit the current Malaysian market and environment.
As the whole truck will be supplied, BigBright LED will ensure that all the clients' requirements are met. This includes a reliable and durable truck head, manufactured by the leading automotive brands like Isuzu and Daihatsu. On the LED Trucks are the specific LED screens which can be used for playing of advertisements and messages. BigBright LED will then advice the advertiser accordingly on what type of screens to use and how to use them.
This is where BigBright LED will supply either the P8 or P10 LED outdoor series which are designed to be lightweight, easy to install and waterproof. The screens will then be mounted onto the specific system onto the truck which could come in many forms. This could be a 3-sided screen setup or it could be on the hydraulic system that can be hovered above from the ground.
There are 3 main types of LED trucks offered by BigBright LED in Australia and Malaysia. The most ideal and effective channel in this media is the LED Trailer as it is large in size, often creating a strong and booming effect among the consumers. LED Trailers have screens that can be elevated so that they function like a unipole billboard. As such, they are known to create more impact with a longer lasting impression among the target audience.
BigBright LED's LED billboards are currently seen along some of the highest traffic areas around the Klang Valley. As such, one can see the trucks in locations like the Bukit Bintang area, Jalan Ampang, Mont Kiara and the surroundings of Sri Hartamas and Old Klang Road, among others. Apart from that, BigBright LED has been involved in some of the most prominent LED advertising projects that include Façade lighting and building wraparounds. The firm is set to work to partner and collaborate with major media owners in Malaysia in a project to design and install the largest LED screen in the country.