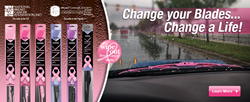 "We have successfully proven that our wiper blades are a great addition in tire stores increasing profit and customer retention"
Pine Brook, NJ (PRWEB) July 31, 2014
This August 20-22, retail and commercial tire dealers, tire sellers and distributors, automotive service providers, and re-treaders (amongst many others) will be flocking to Orlando for the annual International Tire Exhibition & Conference. Paula Lombard, President of AutoTex Pink will be joining Jody DeVere, CEO of AskPatty.com at booth 310. Additionally, Jody DeVere is an honored guest, speaking to ITEC attendees on "Selling to Women and Telephone Skills."
AutoTex Pink blades, a Certified Female Friendly® product, are premium, OEM quality blades that fit over 99% of current applications. These quality windshield wiper blades come in a traditional black frame with a small pink ribbon and in full pink color to denote the cause. A portion of the proceeds from each sale is donated by AutoTex Pink to the National Breast Cancer Foundation.
"We are especially thrilled to be attending ITEC this year because of our new partnership with ATD-Tire Pros. Participating Tire Pros dealers this October will be carrying AutoTex Pink wipers and supporting our fight to 'Wipe Out Breast Cancer,'" says Paula Lombard. "We have successfully proven that our wiper blades are a great addition in tire stores, increasing profit and customer retention," she adds.
Paula Lombard and AutoTex Pink wiper blades can be found at the Ask Patty Booth, 310.
####
About AutoTex Wipers: AutoTex PINK is a division of WEXCO Industries, Inc., a certified WBENC (Women's Business Enterprise National Council) company that is one of the nation's leading global supplier of OEM quality windshield wiper blades, auto parts and accessories. A portion of the sales of AutoTex PINK windshield wiper blades goes to the National Breast Cancer Foundation and the Breast Cancer Society of Canada. For more information, visit http://www.autotexwipers.com or call 800.692.3962.
About AskPatty.com: With international headquarters in Thousand Oaks, California, AskPatty.com, Inc. takes a two-pronged approach to revolutionizing the women's automotive retail market: For consumers, the AskPatty.com website, is a safe and reliable source for expert automotive advice and research. For auto dealers, tire dealers, collision centers, auto service and repair centers, the revolutionary AskPatty.com Certified Female Friendly® program, designed from the ground up, trains and certifies automotive retail and service centers on how to attract, sell, retain and increase loyalty with women customers.
About National Breast Cancer Foundation, Inc.®:National Breast Cancer Foundation, Inc.® is a nonprofit charitable foundation headquartered in Frisco, Texas, just north of Dallas. The Foundation exists to save lives by providing access to free and low-cost mammograms for those with limited resources, increased awareness through continuing education programs and online community support programs. For more information, visit http://www.nbcf.org.