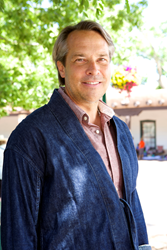 "So much of the Dallas arts market appreciates the history, rarity and value in Native American collectibles." – Jed Foutz
Santa Fe, NM (PRWEB) August 01, 2014
Shiprock Santa Fe gallery is pleased to announce that owner Jed Foutz is hosting a trunk show featuring historic Navajo textiles and jewelry at Antèks Home Furnishings, 1135 Dragon St., Dallas, Texas, on Saturday, September 20, 2014, from 10 a.m. to 7 p.m. Antèks Home Furnishings is one of the best sources for rustic furniture, Western furniture and Western accessories in the Dallas/Fort Worth region.
"So much of the Dallas arts market appreciates the history, rarity, and value in Native American collectibles," Foutz said recently. "I am honored and excited to be part of this event and to work alongside Barry Friedman and Jason Lenox." A renowned expert in Native American antiques, Foutz also will offer an exclusive opportunity for event guests to receive on-site complimentary appraisals for vintage Navajo rugs.
"We are lucky to bring a collection of significant Native American antiques from Shiprock Santa Fe gallery to Dallas," said Jason Lenox, owner of Antèks and an interior designer specializing in the upscale rustic genre. "Jed's expertise in sourcing rare and valuable rugs and jewelry provides a unique opportunity for Dallas collectors to gain a one-on-one consultation with a leading authority on Native American antiques, while getting to view and purchase his collection at Antèks."
The trunk show is being held at Antèks Home Furnishings in conjunction with a book signing event by author Barry Friedman. Friedman, a well-known authority on American Indian blankets, will be signing copies of his latest coffee table book, "Still Chasing Rainbows: Collecting American Indian Trade & Camp Blankets Volume Two." The book is a 304-page coffee table book, weighing just under five pounds, with unique content related to American Indian trade and camp blankets. The book, priced at $89, will be for sale at the event.
Jed Foutz and Barry Friedman are primary sources for supplying antique American Indian blankets to top fashion retailers around the world. Friedman is also a vintage blanket consultant for Pendleton Woolen Mills.
To complement Shiprock's trunk show collection, Friedman and Antèks' Lenox will also display a collection of coveted antique blankets throughout Antèks' showroom floor for event guests to peruse and purchase.
The event is a featured tour stop on the 29th annual Dallas Art Dealers Association Fall Gallery Walk, which allows art lovers to socialize and tour a full spectrum of galleries and special exhibitions. The book signing event benefits the Edith Baker Scholarship.
WHAT: Shiprock Santa Fe gallery trunk show and Barry Friedman book signing.
WHEN: Saturday, September 20, 2014, 10 a.m. - 7 p.m. Cocktail reception begins at 4 p.m.
WHERE: Antèks Home Furnishings, 1135 Dragon Street, Dallas, Texas 75207; 214.528.5567
ABOUT SHIPROCK SANTA FE GALLERY:
Founded in 2006, Shiprock Santa Fe gallery is the capstone creation for fifth generation trading post owner Jed Foutz. Raised on the Navajo Reservation, Foutz has a studied eye and impeccable aesthetic that gives Shiprock Santa Fe both a vintage and modern appeal that attracts top fashion buyers, designers, filmmakers, and renowned art collectors. Mixing Mid Century Modern design with antique and contemporary Native art, Shiprock Santa Fe gallery has become a resource for internationally known artists and designers. The gallery features a considerable inventory of historic Navajo textiles and turn of the century silver and turquoise jewelry, as well as the work of some of the most well-known artists in contemporary Native art. Foutz has carefully cultivated a collection of pieces ranging from vintage furnishings by George Nakashima, vintage and contemporary pottery, basketry, fine art, and eclectic finds from Jed's world travels. Shiprock Santa Fe's knowledgeable staff is well-versed in the material and provides both acquisition and appraisal services, working with clients looking to acquire a single collectible or build corporate or personal collections.
For more information, please visit Shiprock Santa Fe.
ABOUT ANTÈKS HOME FURNISHINGS:
After 30 years in business Antèks is a national leader in upscale rustic home furnishings and accessories. Proprietor and buyer Jason Lenox runs the elegant storefront located within the Design District of Dallas, Texas. Respected by interior designers and the public, the store strives to keep the rustic lifestyle sophisticated, fresh, and current. The fine-tuned collection of furniture and accessories translates well into a mountain or modern home interior. Antèks also offers custom upholstery, interior design services via Alexander Rustic Interior Design and a line of Lenox designed Navajo style silver accessories accented with all natural stones. 1135 Dragon Street, Dallas, Texas 75207; 214.528.5567, Mon. – Sat. 10 a.m. - 5 p.m.; http://www.antekshome.com.