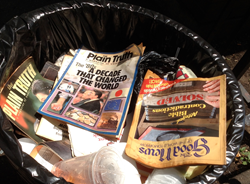 As a proponent of the importance of reading, Johnson sells to everyone, including the drug dealers who often can be found in the neighborhood.
New York, NY (PRWEB) July 31, 2014
While in New York for the launch of Eric Mondschein's "Life at 12 College Road," SOOP Founder Wade Fransson made an unexpected connection that will soon begin paying dividends—in particular, to children living in a rough-and-tumble Queensbridge neighborhood.
As Fransson made his way on foot from his hotel to the "Life at 12 College Road" launch, he noticed several copies of "The Plain Truth" magazine in a trash can near a street side book vendor. As a former member of the controversial church that originally published that magazine, Fransson's interest was piqued. That's when he met Andrew Johnson, the man behind the table—or, as he's known in this neighborhood, "Book Man."
Book Man was featured in a New York Times Sunday feature in September 2013, in which he was dubbed the "unofficial mayor of this hub" near the sprawling Queensbridge public housing project. According to the feature, Johnson has been selling discounted books harvested from thrift store shelves for eight years, and has been in book-starved Queensbridge for the last four. A Mississippi native who has spent the better part of the last four decades in New York, Johnson's background includes time with the Marines, a bachelor's degree in political science, and a variety of jobs, including teaching English and managing a campus bookstore.
According to the Times: "After working at a Borders bookstore in Manhattan, [Johnson] was inspired — after reading the book 'Do What You Love, the Money Will Follow' — to sell used books on the street." As a proponent of the importance of reading, Johnson sells to everyone, including the drug dealers who often can be found in the neighborhood. Those drug dealers, in turn, agree to keep away from his bookstand and its patrons.
Fransson returned to Book Man's table—which Johnson dubs "The Last Bookstore"—the day after their first encounter, and filmed an impromptu interview with him. (That interview is the inaugural video on the new SOOP YouTube Channel, and is currently available for viewing.) By the end of their conversation, two SOOP titles, "Life at 12 College Road" and "The People of the Sign," were added to Book Man's offerings. Fransson also pledged to donate new versions of the remainder of SOOP's library, in support of Johnson's efforts to bring high quality literature to local residents. That will include "The Time Manipulator's Son," a young adult science fiction novel by Rohini Singh (who also attended the "Life" launch) being published by SOOP this summer. In addition, after discovering that Johnson hoped to someday expand his children's offerings, Fransson offered to organize a free shipment of books to establish a children's reading corner at The Last Bookstore.
"Hopefully, Andrew can establish a place that local, at-risk kids can go and learn to love reading," said Fransson. "SOOP is excited to help him expand his reach and continue his important work in the community."
About Something or Other Publishing:
Something or Other Publishing, LLC is a new concept in publishing that seeks to connect authors and readers like never before. Its democratized selection process and subsequent focus on author education, empowerment, and encouragement is designed to provide a platform for a new generation of talented writers. The company is based in Madison, Wisconsin.
# # #