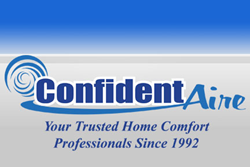 One of the worst categories of storm damage is flooding in the basement, yet this is one of the easiest disasters to prepare for. To help consumers get ready, Confident Aire, is highlighting the month of August as Sump Pump Awareness Month
Batavia, Illinois (PRWEB) July 31, 2014
Did you know that in the Chicago area, August is the rainiest month of the year? According to the National Weather Service, Chicago receives on average 3 to 7 inches of rainfall during this month. In fact, the wettest month on record was August of 1987 with a total of 17.10 inches of rainfall. August can sometimes be a drier month, but 75% of the time we can expect to experience violent storms and plenty of wet weather. That can spell disaster for homes that are not prepared for the drenching.
One of the worst categories of storm damage is flooding in the basement, yet this is one of the easiest disasters to prepare for. To help consumers get ready, Confident Aire is highlighting the month of August as Sump Pump Awareness Month and offering discounts on new sump pump installations.
This month customers can receive $75 off any new sump pump installed by Confident Aire.
Most homes with basements are equipped with sump pumps that carry incoming water back to the outdoors. But these devices usually only last a few years, and they always seem to breakdown when least expected. In addition, sump pumps operate by electricity and when a power outage occurs, your home can become an open door to gushing water that seems to fill a basement in minutes.
To make matters worse, homeowners insurance does not typically cover damage due to sump pump failure or any existing drainage system. Most agencies require a special policy or endorsement to a homeowner's policy for this type of situation to be covered. Damage to a finished basement can easily cost more than $5,000 if flooring and drywall need to be replaced, not to mention furniture.
As added insurance against power outages, generators can help keep the essentials running like the refrigerator, lighting and non-battery sump pumps. Huge rainstorms can knock out power just when you need it the most. Purchase a back up power source as a safety net to help avoid costly disasters during severe weather. As added protection during August Confident Aire is offering $250 off the price of any new standby generator.
"We are excited to offer our customers these savings on two key products that can help homeowners avoid disaster during the stormiest month of the year", said Tom Wangler, owner of Confident Aire, Inc. "We have witnessed the after affects of unexpected summer thunderstorms too many times. Homeowners call us in a panic to come out and fix their sump pump because their beautiful finished basement is already flooding. We hope that by naming August as "Sump Pump Awareness Month" our customers will heed the warning and inspect their sump pumps ahead of time."
As an emergency disaster response to basement flooding situations, Wangler relies on portable generators and emergency pumps to get things under control. But even a fast response time and heavy duty equipment can't erase the immediate damage caused by water. "Taking the right precautions will always bring a better result than even the quickest flood response," says Wangler. "We make every effort to respond in under an hour to emergency calls. But all to often it's just too late to undue what nature has already done".
Confident Aire carries the PHCC Pro-Series brand of Sump Pumps. The ProSeries brand is an industrial grade pump for the residential market. Three options are available including:
Good: The PHCC Pro Series S3033 1/3 Horsepower Sump Pump features a deluxe controller and dual float switch.
Better: The PHCC Pro Series 2400 Sump Pump features a battery backup system that switches to battery power when electricity fails. This system also monitors and alarms when the battery needs replacement or charging or if the battery cable is loose or becomes disconnected.
Best: Pro Series Combination Primary and Backup Pump Systems are sold as a "pair of pumps" that function as an energy efficient primary sump pump and battery backup sump pump into one compact system. The primary pump operates off AC power. If the power is interrupted, or more water is coming into the sump than the AC pump can handle, the backup sump pump will begin pumping automatically.
Tom Wangler is an expert in home heating, cooling and plumbing systems and recommends frequent sump inspections to make sure everything is operating efficiently. "The average life span of a sump pump is about eight years. Because it is so critical to the safety of the home, we recommend replacement every 6-8 years just to stay on the safe side. You just never know when they will cease functioning," says Wangler.
Confident Aire, Inc. is an HVAC company that specializes in heating, cooling, plumbing and energy-saving solutions in Batavia, Illinois located in the Far West Suburbs of Chicago. In addition to sump pump installations, they professionally install and maintain heating and cooling systems as well as provide plumbing service and energy-saving devices for homeowners.
For more information contact Confident Aire, Inc. at (630) 761-9007 or visit http://www.confidentaire.com.