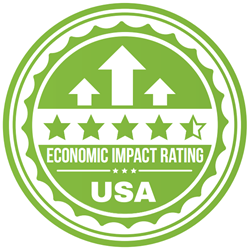 You're talking about an impact that could change the trajectory of both our economy and environment.
Manchester, N.H. (PRWEB) July 31, 2014
The Economic Impact Rating Program announces that Sustainably Reclaimed, a New England-based upcycled furniture designer and manufacturer, has completed the Economic Impact Rating Assessment process for their Sustainably Reclaimed Coffee Table.
Sustainably Reclaimed, a designer and manufacturer of upcycled furniture created from wood that would otherwise be wasted, received a 4.5-star American Economic Impact Rating. The rating means that at least 90%+ of the price of the coffee table is directed within the United States economy.
Using a patented system, the program produces an Economic Impact Rating that is based on a one- to five-star scale. The system tells consumers, businesses and governments about where the money from a purchase of a good or service is going and the economic growth behind it.
The Economic Impact Rating Certification Mark is displayed on packaging, signage, or advertising—similar to other certification marks like Organic Certified or Fair Trade Certified. A variety of Economic Impact Rating Certification Marks are available, each specifying a specific geographical area—such as a state like California, a region like New England, or the USA economy as a whole
"Sustainably Reclaimed aims to create quality American jobs from those that help collect the materials to designers," says Sean Michalski, founder of Sustainably Reclaimed. "Each table is handcrafted in the U.S. from 100% recycled wood that would otherwise end up in a landfill."
Michalski started Sustainably Reclaimed in 2014 while attending Southern New Hampshire University. He is currently enrolled in the MBA-Sustainability program. Michalski graduated in 2005 from the University of Maryland at College Park with a Bachelor of Science degree in Mechanical Engineering, and works for the United States Patent and Trademark Office as a Primary Examiner, where he has been since 2006.
"We are trying to make a difference in the way waste wood is disposed of in New England, and put it to an environmentally sustainable use," adds Michalski. "By selling direct, we can offer a higher quality product at a lower price."
He also adds that shipping is free for orders going to New Hampshire, Massachusetts, Connecticut and southern Maine.
"Imagine if many small companies did this," says Anthony Comito, founder of the Economic Impact Rating. "Imagine if several large companies, especially with an environmental impact like Sustainably Reclaimed, did this. You're talking about an impact that could change the trajectory of both our economy and environment."
A former tax accountant and small business consultant, Comito compares this rating system to other trusted certification marks such as the LEED certification program for green building or the USDA Organic certification mark.
"Study after study continues to show a rising interest in local and Made in the USA products," adds Comito. "People deserve a trusted and easy way to identify products that support their economy–just as they have for organic certified food or Fair Trade items. Empowering consumers, businesses and governments to identify these products and services is our core mission."
The Economic Impact Rating, an independent certifier of products and services, helps businesses show their economic impact, by giving consumers the information they need to support businesses that strive to create jobs and contribute to their communities. The rating is a patented, third-party mark placed on packaging, websites or marketing material showing consumers, on a 5-star scale, how much of a product's price-tag is being captured in an area and the impact behind it. For more information, follow them on Twitter @EconImpact, Facebook or connect on their website http://www.economicimpactrating.com/.
Started in 2014, Sustainably Reclaimed creates hand-crafted furniture made from 100% recycled materials. Sustainably Reclaimed is an effort to effect positive change in the environment and the economy, and to raise awareness of positive changes we can make. All furniture is finished by hand with natural oils, not shiny plastic coatings, and is meant to weather with use and acquire even more patina and character. The company also focuses on creating quality American jobs and reducing U.S. dependence on Asian furniture that is often made from illegally forested resources. To learn more about Sustainably Reclaimed visit their Facebook page at https://www.facebook.com/SReclaimed or on twitter at @SReclaimed. You can also find Sustainably Reclaimed on Etsy.