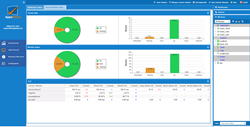 Los Angeles, CA (PRWEB) November 12, 2014
Microsoft Azure is a highly scalable and performance driven cloud-based platform. Properly testing application load and stress is increasingly valuable to application performance, especially with large userbases. The ability to shift load sizes, vary resource performance, and remotely access applications are both benefits of cloud-based systems and strong motivators for proper application testing. Since machines and applications are off-site, appropriate testing and optimization is key to providing a high-class product for the end user. NRG Global, a quality assurance firm and Microsoft Partner, offers a load, stress, and functional testing solution for any application, including cloud, hybrid, or web-based. Their application testing solution, AppLoader, utilizes a front-end testing method where tests are conducted from the point-of-view of the end-user. This unique method offers improved transparency and an in-depth analysis of the end user application experience. Request a risk-free proof of concept.
AppLoader, like Azure, is fully scalable and can work with varying user sizes and types. Virtual users can be increased or decreased on the fly to meet any project need. Anywhere from tens to tens of thousands of users can simultaneously test load or stress through any type of workstation or location. AppLoader aids in creating a stable application environment through its unique testing approach. By utilizing the front-end for testing, application usage is exactly as it would be performed by the end-user. Usage scenarios are created by recording actions as they would be performed by the user. Thus, any measurable action can be recorded and replayed through AppLoader's test. Download AppLoader here.
AppLoader also provides automation in secure environments. High security actions, including secure log ins, typically require manual input, but can be automated by AppLoader while still meeting corporate standards and guidelines.
NRG Global allows for testing of hybrid application models. In-house applications that utilize cloud features can be tested while retaining continuity in results. NRG Global offers a professional support team and provides consulting for large or complex projects. To see project specific benefits, request a proof of concept.
About NRG Global:
NRG Global's motto is that you should test software the way you use it. Their software is built from the ground up to replicate exactly how the end user interacts with the application to give you the most accurate test possible.
Their unique approach to performance testing has helped companies around the world test critical business applications. Their clients include: Capgemini, JPMorgan Chase, Baylor Health Care System, UCLA, GAP, and NASA.
For more information about NRG Global, visit http://www.NRGglobal.com.
Contact Info:
Charlotte Kummer
NRG Global
+1.213.234.7550
lywan(at)nrgglobal(dot)com