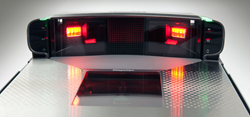 'We are proud of our global leadership role within in the Automatic Data Capture community for the retail sectors,' states Bill Parnell. 'Datalogic remains committed to helping retailers build valuable shopping experiences for their customers.'
Eugene, OR (PRWEB) July 31, 2014
Datalogic, a global leader in Automatic Data Capture and Industrial Automation markets, will be presenting exciting technological solutions for retail store automation, during this year's RetailNOW Conference in Kissimmee, Florida, August 4 – 6 at Booth #206.
Datalogic brings 40 years of innovation in Retail Store Automation that began with the first bar code read in a retail store environment in 1974, and is the global leader in data collection solutions for the retail store.
At RetailNOW Datalogic will exhibit data capture solutions aimed at optimizing the retailer's ROI, while improving the shopper's overall in-store experience. Demonstrations will include: LaneHawk™ bottom-of-the-basket (BOB) loss prevention solution, the Magellan™ 9800i high performance scanner/scale with full digital imaging and ScaleSentry™ Shrink Monitoring/Prevention System and Joya™ X1 self-shopping device that grants the shopper the ability to access real-time pricing, promotions and discounts. Learn about the revolutionary Jade™ X7 Automated Scanner that allows shoppers to place items on the checkout belt in any orientation and have them automatically scanned as they pass through scanning arches.
Datalogic will also preview the QuickScan™ QBT2400 imager, the latest addition to the highly successful QuickScan™ 2D imager family. See how Datalogic's various mobile computer offerings such as the Memor™X3, Lynx™ PDA and Skorpio™ X3, all with 1D and 2D capabilities, can allow the operators to assist customers on the floor with real-time price checks, inventory updates and stock locations.
"We are proud of our global leadership role within in the Automatic Data Capture community for the retail sectors," states Bill Parnell. "Datalogic remains committed to helping retailers build valuable and meaningful shopping experiences for their customers by developing progressive, creative and innovative solutions. We look forward to the opportunity to meet with our partners during RetailNOW."
Be sure to stop by Datalogic's Booth 206 to experience their ground-breaking technologies that re-invent the shopping and checkout experiences.
Datalogic ADC, the world leader in Automatic Data Capture, offers state of the art solutions with fixed position retail scanners, handheld scanners and mobile computers. Datalogic ADC's range includes in-counter and on-counter point of sale scanners, general purpose and ruggedized handheld scanners, rugged mobile computers, industrial PDAs and vehicle mount computers. Solutions for applications in several sectors include healthcare, hospitality/entertainment, manufacturing, retail, services and transportation & logistics.
Businesses in the retail sector can particularly benefit from Datalogic ADC's vision-based technology solutions, analytical tools, self-shopping solutions and consumer relationship technologies.
A division of the Datalogic Group, Datalogic ADC is headquartered in the US with a presence in over 120 countries.
Datalogic Group is a global leader in Automatic Data Capture and Industrial Automation markets. As a world-class producer of bar code readers, mobile computers, sensors, vision systems and laser markeing systems, Datalogic offers innovative solutions for a full range of applicaitoons in the retail, transportation & logistics, manufacturing and healthcare industries. With products used in over a third of the world's supermarkets and points of sale, airports, shipping and postal services, Datalogic is in a unique position to deliver solutions that can make life easier and more efficieint for people. Datalogic S.p.A., listed on the STAR segment of the Italian Stock Exchange since 2001 as DAL.MI, is headquaratered in Lippo di Calderara di Reno Bologna). Datalogic Group as of today employs about 2,400 members of staff worldwide distributed in 30 countries. In 2013 Datalogic Group acheived revenues for 450,7 million Euro and invested over 35 million Euro in Research and Development with a portfolio of over 1,000 patents across the world.
For more news and information on Datalogic, please visit http://www.datalogic.com.
Datalogic and the Datalogic logo are registered trademarks of Datalogic S.p.A. in many countries, including the U.S.A. and the E.U. Datalogic ADC is a trademark of Datalogic S.p.A. Joya, Lynx, Skorpio and Memor are trademarks of Datalogic ADC Srl. Magellan, QuickScan, Jade, LaneHawk and ScaleSentry are trademarks of Datalogic ADC Inc. All other brand and product names are trademarks of their respective owners.
Contact:
Pam McQueen
pam.mcqueen(at)datalogic(dot)com
541-302-2012