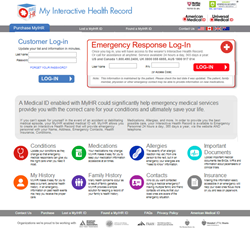 MyIHR is a valuable tool for anyone who wants to keep personal medical information organized.
Houston, TX (PRWEB) July 31, 2014
Universal Medical ID has expanded access to My Interactive Health Record (MyIHR) to customers in Australia. The service is also available in the United States, Canada and the United Kingdom. The online personal health record allows people to create a central record that houses all health and medical information, including contact information, emergency contacts, health insurance, medical conditions, allergies, medications and more.
MyIHR is a valuable tool for anyone who wants to keep personal medical information organized. And MyIHR can be a central depository for important medical documents for the whole family. Parents can enter information about their children's health and medications, and even upload immunization records.
Taking charge of personal medical records can help prevent medical errors when talking to a doctor or pharmacist, especially if the person sees multiple specialists. MyIHR is helpful for anyone who has multiple chronic conditions, is taking multiple medications, or has an extensive medical history.
The secure online portal is easy to access and use anywhere there is an internet connection. Once in the system, it's simple to navigate between tabs to see general information, medications, conditions, etc. Anyone who has access to the USER name and PIN can view the file, but only the private password allows the file to be changed.
MyIHR can even work in tandem with a medical ID during an emergency. The unique USER name and PIN engraved on the ID allow emergency medical professionals to access extended medical history and records by calling the 24/7 toll-free phone number or visiting the website.
For information about My Interactive Health Record, visit http://www.myihr.com.
About Universal Medical ID
Universal Medical ID provides simple, inexpensive, yet vital tools to help ensure patients receive the best care and live safe, fulfilling lives. We serve the medical community and the public at large by offering a wide selection of medical ID jewelry that, in an emergency, allow medical professionals to give prompt, precise treatment. Founded in 1994 by Rick Russell, president and CEO, Universal Medical ID is based in Houston, Texas, USA, and is 100% employee owned.