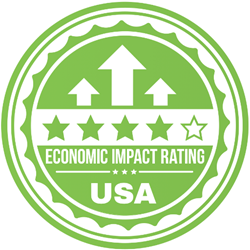 We value transparency over hyper-patriotic marketing tactics
Manchester, N.H. (PRWEB) July 31, 2014
Amidst a crackdown by the Federal Trade Commission on deceptive usage of 'Made in USA' claims, Anthony Comito, CEO of the Economic Impact Rating System, announces that EIR hopes for 'further enforcement by FTC and its continuing attention to transparency."
Last week the FTC announced that a settlement (FTC FILE NO.: 142 3121) has been agreed upon with 'Made in USA' Brand, LLC.
Made in USA, LLC. is required under the proposed settlement to stop its deceptive claims after the FTC claims that some products with the Made in USA mark contained "significant imported content."
The FTC complaint goes on to say that Made in USA Brand "does not audit licensees to confirm ongoing compliance with the accreditation standard," Additionally, the company "has never rejected an application to use its Certification mark and has never terminated any licensee's use of its Certification Mark."
According to the Chicago-based Balough Law Offices the Ohio-based certification program was charging an annual fee of $250 to $2500 for license of the 'Made in USA' certification mark.
"We believe a market-driven approach that allows consumers to support impactful businesses that create jobs and cash-flows has the power to restore the health of our struggling economy," states Comito. "But, cases such as this highlight the need for standardization and transparency in the certification market place."
Using a patented system, the Economic Impact Rating Certification Program produces a rating that is based on a one- to five-star scale. The rating is issued after EIR auditors have documented and authenticated the labor, materials and other processes used in the product or service and where the dollars go from a purchase by the consumer. The system provides consumers, businesses and governments verified information about where the money from a purchase of a good or service is going and the economic growth behind it.
The Economic Impact Rating Certification Mark is displayed on packaging, signage, or advertising—similar to other certification marks like Organic Certified or Fair Trade Certified. A variety of Economic Impact Rating Certification Marks are available, each specifying a specific geographical area—such as a state like California, a region like New England, or the USA economy as a whole.
"Reports showed that some products with the Made in USA certification mark contained significant imported content," adds Comito. "When consumers go out of their way to seek out the certification mark it should be made absolutely clear how that process had been done."
According to the FTC settlement, Made in the USA Brand, LLC:
-falsely advertised that it independently and objectively evaluated whether certified products met its accreditation standard.
-made false or unsupported claims that companies listed in its database as certified marketers were in fact selling products that complied with the FTC's Made in USA standard.
-provided the companies it licensed with the means to deceive consumers into believing that the companies were marketing products that were made in the United States.
Under the proposed administrative order, respondent Made in the USA Brand, LLC, is prohibited from:
-claiming that any products or companies meet its certification standard unless it either conducts an independent and objective evaluation, or discloses on its logo and all its promotional materials that companies and products are self-certified.
-claiming that any product is made in the USA or in any other country unless the claim is true and supported by competent and reliable evidence, or – if the certification mark is used –unless it discloses that companies and products are self-certified.
-providing the companies it certifies with the means to deceive consumers.
The Commission accepted the consent agreement package containing the proposed consent order for public comment with a vote of 5-0.
"We value transparency over hyper-patriotic marketing tactics," asserts Comito.
"Taking these claims for face value is no longer necessary as EIR's patented process is an exhaustive certification system that provides a trusted way for businesses to stand out for their economic impact and for consumers an easy way to find those products."
The company implements a strict zero-brand risk policy, according to Comito. The policy states that there will be no public knowledge of the rating process until after the company licenses their rating. At this point, the public will be able to access the research used to complete the rating but with sensitive accounting information redacted in order to protect the financial information of the client.
The Economic Impact Rating, an independent certifier of products and services, helps businesses show their economic impact, by giving consumers the information they need to support businesses that strive to create jobs and contribute to their communities. The rating is a patented, third-party mark placed on packaging, websites or marketing material showing consumers, on a 5-star scale, how much of a product's price-tag is being captured in an area and the impact behind it. For more information, follow them on Twitter @EconImpact, Facebook or connect on their website http://www.economicimpactrating.com/.