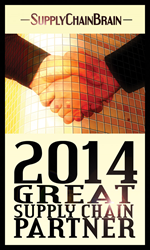 Our prestigious list of 100 Great Supply Chain Partners highlights a select list of companies.
Marietta, GA (PRWEB) August 01, 2014
Thrive Technologies, Inc., the leading provider of cloud based demand forecasting systems, announces today that the publication SupplyChainBrain has recognized the company as a "2014 Great Supply Chain Partner." Thrive was nominated by its clients as having made a significant impact on their client company's efficiencies, customer service and overall supply chain performance.
"Congratulations to Thrive Technologies on making SupplyChainBrain's select list of 2014 Great Supply Chain Partners. Now in its 12th year, our prestigious list of 100 Great Supply Chain Partners highlights a select list of companies whose solutions and services have been so impressive, that their customers took the time to write and let us know. SupplyChainBrain received nominations for hundreds of solutions providers in every aspect of supply chain management during our six-month on-line poll. Thrive Technologies will appear in the 2014 July/August issue of SupplyChainBrain magazine as a celebrated member of this year's 100 Great elite crew," announced Brad Berger, Publisher, SupplyChainBrain.
Thrive Technologies increases inventory profitability for wholesale distributors and retailers with its award winning cloud based demand forecasting, inventory replenishment, and inventory optimization software and services. Thrive's systems provide industry leading forecast accuracy of projected demand at the SKU and aggregate levels plus precise control over inventory levels with an automated alignment to strategic supply chain goals. Thrive's patent pending cloud demand forecasting typically increases client forecast accuracy to over 90% reducing lost sales due to stockouts by over 70%.
Thrive is a cloud-based, SaaS (Software as a Service) provider. They operate on a secure private cloud and can interface with nearly all ERP systems, regardless of platform (Windows Server, Unix, iSeries, etc.). Thrive works with wholesalers and master distributors in industries such as pipes / valves / fittings (PVF), HVAC, electrical, industrial supplies, consumer goods, plumbing, building supplies, and liquor / wines. Clients include Matco-Norca, General Air Service, Virginia ABC Stores, and Chiquita Brands.
About Thrive Technologies
Thrive Technologies is the leading provider of cloud based demand forecasting, cloud based inventory replenishment and inventory performance software to distribution intensive companies. Thrive's award winning systems increase inventory profitability for wholesale distributors and retailers through industry leading forecast accuracy combined with a unique inventory 'nervous system' that dynamically adjusts SKU level inventory based on recent activity, orders and strategic goals. Based on their supply chain goals, Thrive clients monitor their continual and self evident improvement in inventory performance. Supported by Thrive's long term partnership approach and deep domain expertise, Thrive's clients achieve a 90 day return on investment and lasting improvements to profitability and competitive advantage. For more information, please visit Thrive at http://www.thrivetech.com.
About SupplyChainBrain (http://www.supplychainbrain.com)
SupplyChainBrain, the world's most comprehensive supply chain management information resource, is accessed year round through a wide range of ever evolving multi-media formats by hundreds of thousands of senior level industry executives. In addition to addressing the fundamental principles of supply-chain management, SupplyChainBrain identifies emerging trends, technologies and best practices, forward thinking ideas and cutting-edge solutions ~ and continues to write and report about these as they evolve and mature.