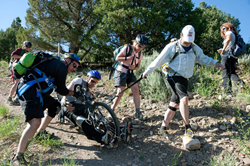 Nearly 250 athletes have participated in the Challenge, including more than 100 athletes with disabilities ranging from blindness to loss of limb to paralysis to traumatic brain injury.
Eagle, Colorado (PRWEB) July 31, 2014
National non-profit World T.E.A.M. Sports' annual Adventure Team Challenge returns to Colorado's Gore Range September 12-14, following two years in the high Colorado Plateau. The multi-sport, multi-team adventure race features teams of disabled and able-bodied athletes competing together in an inclusive outdoor adventure described as one of America's most challenging by experienced adventure athletes.
Hosted at the rustic Rancho del Rio fishing resort along the Colorado River in the rugged Gore Mountains northwest of Vail, the Adventure Team Challenge sends teams of five athletes, two of whom are disabled, one being a wheelchair user, through the mountain terrain in the three-stage event. For the athletes with disabilities, and their able-bodied colleagues, the race provides an opportunity to explore the high country wilderness. Participants also learn the exceptional value of cooperation, teamwork and physical fitness.
This year's Challenge follows seven previous annual events hosted at Rancho del Rio, along the Arkansas River south of Leadville and in McInnis Canyons National Conservation Area west of Grand Junction. Through the years, nearly 250 athletes have participated in the Challenge, including more than 100 athletes with disabilities ranging from blindness to loss of limb to paralysis to traumatic brain injury. Past athletes have included military veterans and civilians aged from early teens to late 60s, some of whom had not previously ventured off pavement or camped in a tent. Challenge athletes camp in the outdoors, share catered communal meals and strategize for the following day's stage by lantern and campfire light.
Directed since 2009 by knowledgeable adventure race specialists Billy and Helene Mattison of Vail, Colorado, the Challenge includes rafting in Class 3 and Class 4 rapids, off-road mountain bicycling on steep, rocky trails, and technical rope activities, including rappelling and zip lining. Each year, the directors change and adjust the sporting activities so returning teams will not have an advantage over first-time teams. Participating teams from across America include non-profit and club teams competing against corporate and military teams. Despite the difficulties of the stages, all participating men and women have remarkably finished the courses each year.
With a growing interest in the Challenge by persons with disabilities, and a limited number of available opportunities, this year World T.E.A.M. Sports extends an invitation to interested persons with disabilities to complete a short online survey to indicate their interest. The submitted applications will permit the event coordinators to match interested candidates with teams seeking disabled team members. Deadline for submissions is August 11.
The 2014 Adventure Team Challenge Colorado is held under permit from the Bureau of Land Management Kremmling Field Office and is permitted by the US Adventure Racing Association. Sponsors for the 2014 Challenge include Front Street Re, Benson Botsford LLC, Penske Truck Rental and George Puskar. Event partners include Timberline Tours and Venture Sports.
About World T.E.A.M. Sports
World T.E.A.M. Sports is a 501(c)(3) not-for-profit organization chartered in North Carolina and headquartered in Holbrook, New York. Since 1993, World T.E.A.M. Sports has organized athletic events for disabled and able bodied citizens – mountain climbing, white water rafting, biking, and more. Four things always happen at our events: (1) Disabled participants build self-confidence and physical fitness; (2) The disabled provide a role model for other disabled citizens, encouraging them to take up physical activities; (3) The disabled become a moving inspiration to other participants and to spectators when they see that disabled individuals can meet challenges beyond anyone's imagination; and (4) The disabled and able-bodied participants learn to work as a team to overcome those challenges. World T.E.A.M. Sports changes lives through sports.