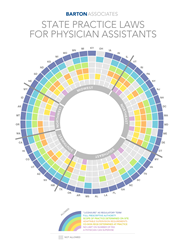 Boston, MA (PRWEB) July 31, 2014
Barton Associates is excited to announce the launch of its "Physician Assistant Scope of Practice Law Guide", an interactive graphic that displays information about each state's laws that regulate physician assistant practice.
As a leading healthcare staffing agency, Barton Associates is committed to providing resources to its locum tenens physicians, physician assistants, and nurse practitioners.
Barton Associates recently expanded its staffing operation to include locum tenens physician assistants in response to the increasing demand for PAs in a variety of healthcare settings. A recent report from the Bureau of Labor and Statistics also projects that PA jobs will grow 38% between 2012 and 2022 .
With the shortage of primary care providers, PAs are expected to play an increasing role in the delivery of primary care services. Across the nation, more schools are offering PA programs and more organizations are hiring PAs. However, the duties and responsibilities PAs are able to perform are determined by the state in which they practice. All PAs must practice under physician supervision, but the extent of that relationship is determined by each states Physician Assistant Practice Act.
Barton Associates created the PA Scope of Practice Law Guide to provide PAs with a snapshot of the scope of practice regulations in each state. Locum tenens PAs who are considering an assignment in a new state can use the tool to view the laws and understand the scope of services they can perform. Non-locum tenens physician assistants may also find it interesting to see how their state compares to others.
To learn more about Barton Associates locum tenens staffing solutions, please visit http://www.bartonassociates.com.