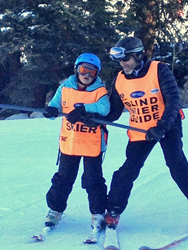 'Skiing helped me gain the courage and confidence to take on other challenges.' - Mark G. Davis, Foresight Ski Guides founder
Denver, Colorado (PRWEB) July 30, 2014
Vail and Beaver Creek, Colo., skiers have probably seen the skiers wearing orange vests emblazoned with "Blind Skier." Those skiers and guides are enjoying time on the Colorado slopes through Foresight Ski Guides, a non-profit organization founded in 2001 that matches volunteer guides with visually impaired and blind participants (VIPs) for snow sport opportunities. Visually impaired skiers and snowboarders and those interested in guiding can learn more and pick up an application to participate in the program at the annual Vail Sports Blizzard Ski and Snowboard Sale, August 1-3 and 8-10, 2014, in Vail Village at Mountain Plaza adjacent to Gondola One. Organizers of Foresight Ski Guides will be on hand at the event to answer questions and help potential participants with applications.
Foresight Ski Guides is seeking skiing and snowboarding volunteers in Eagle and Summit County to guide blind and visually impaired skiers and snowboarders. Foresight provides all the training necessary to become an effective guide or shadow, beginning with classroom experience and then transitioning to the slopes. Once trained, guides volunteer twice each month. Classroom training will begin in Denver and Vail in October.
In addition, Foresight is looking for volunteers in the areas of social media networking, fundraising, and nonprofit event planning and coordination.
"Our goal is to provide visually impaired and blind participants the opportunity to experience a great day on the slopes," says Foresight Ski Guides Founder Mark G. Davis, a lifelong skier who started Foresight after losing his functional vision. Davis relearned skiing through the Colorado Ski School for the Blind and discovered the challenge recreation of "skiing blind" as a transformative experience that lifted grief and depression, bringing renewed passion and confidence to his life. "Skiing helped me gain the courage and confidence to take on other challenges, ultimately learning to live independently and start this successful non-profit organization, Foresight Ski Guides," says Davis. "I want to share this experience with as many people as possible."
Visually impaired and blind participants receive a personalized itinerary and on-site greeter, specially trained, experienced ski guides, a lift ticket, top of the line equipment, ground transportation to the slopes and lodging assistance. Sponsors include Vail Resorts, The Inn and Suites at Riverwalk, Vail Marriot Mountain Resort, Vail Sports, Colorado Mountain Express, Disabled Sports USA and the Vail Daily.
About Foresight Ski Guides:
Dedicated to making world-class skiing, snowboarding, snowshoeing and cross-country touring both affordable and accessible to visually impaired and blind skiers, Foresight Ski Guides provides recreational opportunities in the Colorado Rockies at Vail and Beaver Creek. Foresight Ski Guides, Inc. is a Colorado corporation with tax exempt, non-profit status as outlined in Section 501c(3) of the Internal Revenue Code. For more information regarding Foresight Ski Guides, call 303-506-3859, visit http://www.foresightskiguides.org or follow Foresight Ski Guides on Facebook and Twitter.
Contact:
Darla Worden, WordenGroup Public Relations, darla(at)wordenpr(dot)com, 303.777.7667