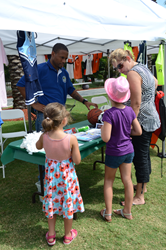 Sunny Isles Beach, Florida (PRWEB) July 31, 2014
Join the community at Pelican Community Park (18115 North Bay Road) on Saturday, August 16, 2014 beginning at 10:00 am to find useful information for the upcoming school year. The annual Sunny Isles Beach Back to School Picnic will help parents prepare their children for the start of school.
This event will have information on everything your child needs for the first day of school including materials on immunizations, sports teams, recreational programs, and local aftercare. Booths will be presented by the City of Sunny Isles Beach After School Care Program, the SIB Community Policing and Ocean Rescue Divisions, the Mount Sinai Medical Center, the Norman S. Edelcup SIB K-8 Parent/Teacher Student Association, school clubs and school uniform services.
While parents browse the booths, kids will be entertained with free rides, crafts, competitions and games, including Hydro-Battle (giant squirt guns and water). Prizes will be awarded to the winners of game competitions. Mascots from Alonzo and Tracy Mourning Senior High and Norman S. Edelcup SIB K-8 will also be on hand to interact with the students.
Food vendors will have lunch and snacks available for purchase throughout the event. The event is sponsored by Optimar Realty. Admission and parking is free. For more information, please call Cultural & Community Services at 305.792.1706.