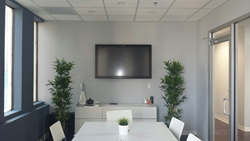 Jacksonville, FL (PRWEB) July 31, 2014
ACTS, a Florida-based technology solutions provider has recently installed the Pereceptive Pixel by Microsoft, a multi-touch display solution, in their new conference room in Downtown Jacksonville, FL. Having the latest technology will allow ACTS employees to better communicate, collaborate and build best practice solutions for their clients.
The Perceptive Pixel (PPI) by Microsoft 55" Touch Device is a touch-sensitive computer monitor capable of detecting and processing a virtually unlimited number of simultaneous on-screen touches. It has 1920 x 1080 resolution, adjustable brightness of up to 450 nits, a contrast ratio of 1000:1, and a display area of 48 x 26.8 inches. An advanced sensor distinguishes true touches from proximal motions of palms and arms, eliminating mis-triggering and false starts. With optical bonding, the PPI by Microsoft 55" Touch Device virtually eliminates parallax issues and exhibits superior brightness and contrast.
"The Perceptive Pixel is a key part of our organization's ongoing efforts to enhance the quality and availability of the most up-to-date technology," says ACTS CEO, James Farhat. "Not only do we want to be leaders in the technology industry, we want to build a reputation of being the best and the Perceptive Pixel gives us that opportunity."
Serving SMBs to Fortune 500 enterprises, ACTS is grounded in a business outcome methodology with the ultimate focus of helping clients drive better business results. ACTS' ability to provide both applications and the infrastructure that powers them offers efficiency and convenience. Solutions are deployed on-premise, hosted or in the cloud – including managed services with 24/7 support.