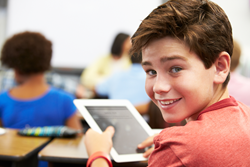 Schaumburg, IL (PRWEB) August 01, 2014
Digital publisher, eBooks2go, recently held a month-long (June 9th 2014 – July 9th 2014) Children's Book Contest to help commemorate their third year in operation. The competition was geared toward authors and writers of illustrated/picture books, with the premise being to discover the best Children's Book on the market.
Earlier this month, the electronic content producer announced "The Little Blue Dog" by Karen J. Roberts as the overall grand prize winner of their 2014 competition. After receiving a great deal of superb literature, it came time to choose this year's first and second runner up.
Winning 2nd prize in eBooks2go's 2014 Children's Book Contest was:
"Danny Is Different" by Tedi Tuttle Wixom
Wixom wrote "Danny Is Different" for children everywhere who have ever been made fun of for being weird, odd, or labeled different. This bilingual tale is a prime example of how an individual can use what some people may not understand to ultimately benefit everyone he/she comes in contact with.
Tedi Tuttle Wixom is an author who writes about the world as she sees and experiences it. Over the past 20 years, she has compiled an extensive list of titles ranging from children's books to personal accounts. Tedi has begun to transform her books and adapt it to the digital age having already converted "A Whisper of Springtime: Jason's Heart Transplant Miracle" with eBooks2go. The digital renovation team is ecstatic to announce that "Danny Is Different" will also be coming to a digital shelf near you.
The 2014 Children's Book Contest 3rd prize recipient was:
"Myeda, Molly, & Me!" by Patricia Easley
Easley's story helps kids recognize people of various faith backgrounds and allows them to see that people are much more alike than they are different. Readers of "Myeda, Molly, & Me!" join three little girls as they share distinctive aspects of their faith, and begin to comprehend just how immense God's love truly is.
Patricia Easley is an L.C.S.W., a licensed clinical social worker, who describes herself as a professional listener of people's life stories. She has been writing children's yarns since her two sons were little, but the birth of her granddaughter helped her ultimately decide that she wanted to put some of her anecdotes into print.
eBooks2go, the digital arm of Gantec Publishing Solutions LLC, is a full-service conversion provider as well as a supplier of end-to-end solutions for the digital space. Owned and operated out of Schaumburg, Illinois, the organization strives to make the world of online publishing easy and affordable for independent authors, writers, and publishers.
Interested in digital conversion services? Contact eBooks2go by e-mail at info(at)ebooks2go(dot)net or call (847) 598-1150 to learn more about the company's offerings.