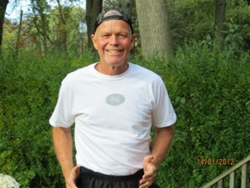 Stapleton has become one of the leading barefoot runners in Canada.
Austin, TX (PRWEB) July 31, 2014
Running coach Jeff Stapleton from Ontario, Canada is named B>U's July Feature of the Month. Stapleton has become one of the leading barefoot runners in Canada inspiring others to become more fit and free through his unique barefoot running style.
Stapleton re-introduced himself to the power of running barefoot more than a decade ago after suffering foot injuries at the expense of wearing shoes in which he calls "coffins". That's why Coach Stapleton applies his barefoot running techniques as, in his words, 'Injury free'.
His loud assertions that running shoes are coffins and his barefoot running technique is injury free has caused a stir in the running community and the industry.
"The so-called "running establishment" do not particularly like me – as a matter of fact, they loath me," proclaims Stapleton. "I take that as a compliment."
Stapleton judges his coaching style according to the success of his clients, teams and running half marathons in an hour and a half at the age of 61.
"Jeff's inspiration, uniqueness and presence to inspire others to be greater than themselves is our reason for Jeff being B>U's Feature of the month," proclaims B>U Conductor, Richard May.
About B>U:
BGreaterThanU.com is the marketing brand inspiring individuals to become greater than themselves for a greater world. The website offers lifestyle tips, inspirational stories and merchandise reflecting the inspirational brand.