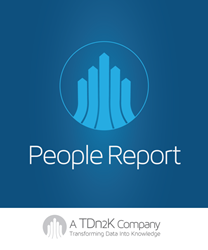 Dallas, Texas (PRWEB) July 31, 2014
The majority of restaurant industry corporate office employees received an increase in base pay during 2013, albeit at a growth rate of only 2-3%. Corporate compensation & benefits research released this week by People Report, a TDn2K company, indicates that this trend is expected to continue in 2014. During the recession, the percentage of companies offering raises dropped to around 70%. As the industry has recovered ,it has rebounded to 95%. Staffing managers are watching these trends closely, as signs begin to point to increased difficulty in recruitment of executives and knowledge workers with specific skill sets.
On average, 81% of corporate office employees received a base pay increase in 2013, a percentage that remains relatively unchanged from the previous year. However, evidence of that increased recruitment difficulty can be found in other forms of compensation being offered at the corporate office. A clear example of this being the return of signup bonuses for corporate executives. In 2014, 49% of companies reported offering such bonuses to their executives, an increase of 11% from what was reported for the previous year.
Companies are also tending to rely more on long term incentives as part of their rewards packages to aid in their recruitment and retention strategies. A significant 66% of companies reported having a long term incentive plan for their corporate executives and 49% for their corporate directors, a significant increase from the prevalence of these plans reported just a year ago.
"Regarding bonuses, we have consistently found that at the management level and above the trend is for group performance to be the key criteria for measuring performance and not individual employee performance. Between 70% and 80% of the annual bonus an employee receives is based on group performance criteria. And it is typically those people that are ultimately responsible for a group's performance, be it an individual restaurant unit or the entire organization, such as restaurant general managers and multi-unit managers or corporate executives, to have a larger reliance on variable pay to deliver their total compensation," said Victor Fernandez, Executive Director of Insights and Knowledge for TDn2K, parent company of People Report.
The corporate job market is clearly responding to a tighter labor market overall. Corporate turnover is steadily increasing, hiring bonuses are returning, and executive compensation is increasing overall, not just in the C-suite. Economists currently peg full employment at 5.5% and predict that we may reach that point within a year. In the meantime, the competition for top talent is already starting to heat up.
TDn2K (Transforming Data into Knowledge) is the parent company of People Report, Black Box Intelligence and White Box Social Intelligence. People Report provides service-sector human capital and workforce analytics for its members on a monthly basis. Black Box Intelligence provides weekly financial and market level data for the restaurant industry. White Box Social Intelligence, currently in beta, will deliver unparalleled consumer insights and reveal online brand health. Together they report on over 30,000 restaurant units, one million employees and 45 billion dollars in sales. They are also the producers of two leading restaurant industry conferences: Summer Brand Camp and the Global Best Practices Conference, each held annually in Dallas, Texas.