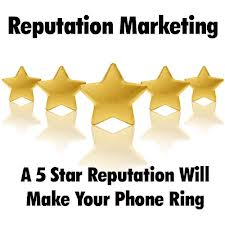 Make a difference in the online marketing - create a 5 star reputation.
Indianapolis, Indiana (PRWEB) July 31, 2014
How important is a reputation for today's business owners?
With today's technology, a business with no reviews or bad reviews is losing prospective clients to their competitors, and JFT Web Marketing has integrated a new way to help any type of business build a 5 star review.
This brand new proprietary system and marketing strategy that JFT Web Marketing offers helps locally owned businesses achieve rock star status in their industry and position their company as the market leader.
Every day, people look online for all types of products and services.
In the small city of West Palm Beach, 2,400 people typed in the words dentist West Palm Beach; Denver appliance repair, 2,900; pediatrician in Philadelphia, 1,900. The numbers are astounding. The problem is, who should they do business with? They're looking for the most reputable company to give their money to. How are their reviews?
It is obvious that one would not buy a product or service from a business that has bad ratings and reviews? No one wants to actually have that exact same experience when they buy a product or service. They go online and they're looking to find the most reputable company to do business with. And only one bad review can send the customer to someone else.
Our reputation is everything. More importantly, the online marketing game has changed and the competition doesn't even know about it.
Let's talk about one of the game changers which is a customer reviews are a major factor in almost every type of online marketing. That's because bad reviews show up on website rankings, organic rankings, Google maps, local directories like Yelp and City Search and Bing and Yahoo, in Yellow Pages and more. Reviews are a major factor in almost every type of online marketing.
Which means SEO, social media, Pay Per Click, local marketing, none of it works anymore if you have bad reviews or bad reputation online. Why would a business want to do all this work and spend all this time and spend money getting to the top and doing online marketing, and when people find them all they find are bad reviews.
Step one is to create a five-star reputation first then market the products and services online.
Another game changer is that reviews send pre-qualified, pre-sold customers because buyers trust reviews as much as personal recommendations, seventy two percent trust. Because three out of four people trust reviews just as much as personal recommendations.
Let's look at the step-by-step strategies. First start is to actually know what people are saying. JFT Web Marketing has a proprietary system strategy and software that actually shows and reveals anyone within moments what their reputation is online.
Just insert the company phone number and the system will sift and sort through thousands of different data pieces online. It will actually share what others are saying about the company and bring the information back.
Each business will want to create a positive online review and want to manage that reputation. Then the last thing to do is to create a reputation marketing culture, to be proactive inside the business to make sure that every single person in the company is on the same page.
These reviews then can be shared on the company's website, social media, e-newsletter, used to close sales and give great credibility before a client visits the business.
JFT Web Marketing will also send the company monthly reports to show the changes in the reputation in the different directories, and daily review alerts. The company knows right away if there is a negative or positive review shared that day.
A custom review page is designed to guide clients with 4 or 5 star reviews to share on other directories and guiding those with 3 stars or less to give the company a chance to make the service better.
JFT Web Marketing offers 15-minute phone consultations to help businesses understand the process and find out if it will be beneficial to them in their market. If one is interested in scheduling a 15-minute phone consultation, they can click on this link and select a date and time that is convenient.