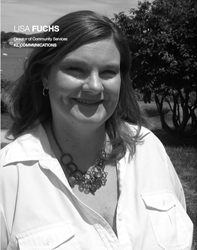 Red Bank, NJ (PRWEB) August 01, 2014
KL Communications, Inc., a collaborative research agency, is proud to announce that Director of Community Services Lisa Fuchs was named to Survey Magazine's 2014 list, "Who's Who of Focus Group Moderators."
The list highlights one dozen moderators who use a variety of approaches in their focus group research.
"Lisa's selection by Survey Magazine shows the respect now being afforded to online moderators. It's a different set of challenges to work remotely and asynchronously, but ultimately it's all about drawing out customer insights and Lisa is fantastic at that," says Kevin Lonnie, president and CEO.
View the full issue online at http://surveymagazine.org/survey-magazine-june-2014/. The "Who's Who" feature begins on page 56, and Lisa's feature begins on Page 74.
KL Communications is a pioneering market research solution leading the way in collaborative, online research. Earlier this year, KL Communications launched a new platform, complete with CrowdWeaving™, a unique co-creation solution that is shaping the standard for online community platforms in the research industry. To learn more about CrowdWeaving™ Ideation Sessions check out http://www.klcommunications.com/crowdweaving-process/.
Survey Magazine covers research techniques and methodology to help keep business readers connected with the research industry. This includes information and advice on cutting-edge technology as well as insightful executive interviews. To read more articles, visit http://surveymagazine.org/.
About KL Communications:
KL Communications are experts in online co-creation communities. KLC's co-creation community platform is powered by CrowdWeaving, industry-leading ideation software that allows for true collaboration throughout the ideation and development process.
CrowdWeaving is a complete co-creation solution built on our proprietary platform that includes the principles of online communities and ideation. We have built and managed communities for Fortune 1000 companies since we were founded in 1996. KLC provides our clients with a full-service, strategic partnership that is supported and enabled by technology and ensures insight, value, and innovation. For more information about KL Communications, visit http://www.klcommunications.com/.