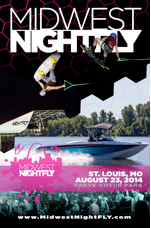 Maryland Heights, Mo. (PRWEB) August 01, 2014
St. Louis's exclusive Creve Coeur Park will once again play host to the premiere nighttime watersports event, Midwest NightFLY. The event's unique format brings together two worlds of extreme watersports featuring the high impact of long distance waterski jumping and "big air" wakeboarding. This day-long festival features all types of watersports exhibitions, but the event climaxes as the finals are presented at night under stadium lights. Last year, in front of over 4,000 spectators, the signature event brought out some of the biggest names in watersports and looks to pack an even bigger punch in 2014.
In conjunction with the on water activities Creve Coeur Park offers a wonderful running path around the lake. Midwest NightFLY is excited to add a charity 6k/12K run walk to benefit the Leukemia and Lymphoma society. Get registered today to secure your spot!
Check out http://www.midwestnightfly.com for the latest video recap the one-of-a-kind event from 2013 along with a newly launched website for event info, amazing pictures and the latest news. Find more information by following us on Facebook and Twitter @MidwestNightFLY., or contact info(at)MidwestNightFLY(dot)com for information regarding sponsorship and vendor questions.
For more information on the Maryland Heights Convention and Visitors Bureau, please visit the website by clicking here.