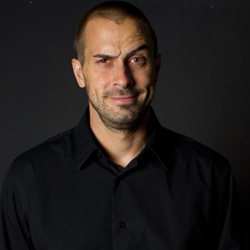 Piston is lucky to have such a strong creative leader.
San Diego, CA (PRWEB) July 31, 2014
San Diego- and NY-based Piston has promoted Colin Ayres to Creative Director.
"Colin is a gifted storyteller, equally comfortable working in digital or traditional. He's also a genuinely nice guy who happens to be enormously talented," said David Schafer, Executive Creative Director. "Piston is lucky to have such a strong creative leader."
Colin began his advertising career as an intern copywriter in San Diego in 2004 after graduating from Yale. From his internship, he quickly advanced to senior copywriter at the MEA Digital, and in 2012, was promoted to Associate Creative Director where he took a large role in shaping the creative department during the rebranding of the agency to Piston.
With a decade's worth of award-winning, multimedia campaigns to his credit, he has worked with clients ranging from Cars.com, Experian, and Intuit to Oakley, Ray-Ban, Mitsubishi, Nickelodeon, Sony, Sunglass Hut, SyFy, Toshiba, and Yakult. His work on Cars.com recently landed the agency two gold and three silver ADDY awards at the 2014 American Advertising Federation awards this past June.
"Piston truly feels like home. I am so grateful and excited for this opportunity, and look forward to doing all that I can to continue to help the agency grow," Ayres said.
About Piston:
Piston is a full-service digital agency located in San Diego and New York. Piston creates successful communications between brands and customers based on a deeper understanding of commerce, culture, and technology. By connecting these three concepts, Piston builds and tracks brand relationships that span all media, channels, and marketing capabilities.