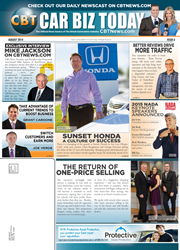 Atlanta, GA (PRWEB) July 31, 2014
CBT News announced today that the August issue of Car Biz Today magazine is now available online, and printed copies will be delivered to dealerships next week. To see the digital version of Car Biz Today Magazine, visit CBTNews.com.
This month's issue features an article on the return of one-price selling. We interviewed experts and dealers who are already seeing results after switching to the no-haggle sales process.
There are also stories from some of the retail automotive industry's top names including Glenn Pasch of PCG Digital Marketing, who explains why there needs to be better education for dealers in digital marketing.
Top trainers David Lewis, Grant Cardone and Joe Verde offer practical information on what it takes to plan and implement successful growth strategies for dealerships, while Sally Whitesell addresses the issue of "quick" write ups in the service lane. Other contributors are Jeff Cowan, Dennis Galbraith, Mark Rikess and Amy Farley to name a few.
For more information or to sign up for a free subscription, go to CBTNews.com.
About CBTNews and Car Biz Today Magazine
CBT News/Car Biz Today is an online news source dedicated to providing the retail automotive industry with news, training and event coverage through various forms of multi-media journalism. The online news source has more than 75,000 subscribers made up of new car dealers and their personnel. CBT News is home to award-winning broadcasters and is headquartered in Atlanta, Ga.
Car Biz Today Magazine is a monthly publication, reaching more than 17,000 new car franchises in North America. As with the website and newscast, Car Biz Today Magazine provides informative, upbeat and relevant information for retail automotive executives and their personnel. Learn more at cbtnews.com.