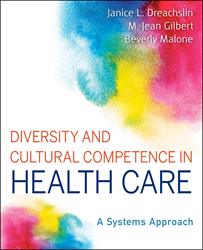 Understanding the importance of creating and maintaining a diverse health care workforce, prepared to deliver culturally sensitive care, is key to optimizing healing, NLN CEO Dr. Beverly Malone
Washington, DC (PRWEB) July 31, 2014
Responding to the call to make today's dynamic health care environment more responsive to an increasingly diverse patient population, three leading educators bring their years of experience and scholarly expertise to the publication of a new textbook for instructors across the health care professions:"Diversity and Cultural Competence in Health Care: A Systems Approach" (Wiley, 2013). Janice L. Dreachslin, PhD, a professor in the Management Division at the Penn State Great Valley School of Graduate Professional Studies in Malvern, PA; M. Jean Gilbert, PhD, principal of the consulting firm, Cultures in the Clinic; and NLN CEO Beverly Malone, PhD, RN, FAAN, have each written from their differing respective academic-scholarly perspectives - health administration, medical anthropology, and nursing education.
While major changes continue to take place in the world's health care environment amid policy shifts, the passage in 2010 of the Patient Protection and Affordable Care Act, and the persistence of significant disparities in health status across different sectors of the population, hospitals, and other practice settings have been slow to adjust models of care delivery to achieve optimal patient outcomes. Hence the need for the systemic review of the foundations, philosophies, and processes that underlie and strengthen diversity management, inclusion, and culturally competent care delivery found in this practical, comprehensive instructional text.
With its focus on current practice and policy, "Diversity and Cultural Competence" encompasses principles and practices that can be realistically incorporated into the ongoing work of any health care field or organization. Each chapter contains learning objectives, summary, key terms, and review questions and activities designed to allow students to understand and explore concepts and practices identified throughout.
"Understanding the importance of creating and maintaining a diverse health care workforce, prepared to deliver culturally sensitive care, is key to optimizing healing," stated Dr. Malone, adding: "That's why I decided to participate in this very worthwhile book project, which reflects the mission of the NLN to advance the health of the nation and the global community."
"Diversity and Cultural Competence" is only the most recent publication associated with the NLN to spotlight diversity, one of the League's four core values guiding its mission. In 2012, the NLN published a series of essay collections designed to promote diversity in nursing and nursing education by capturing the experiences and challenges of specific racial-ethnic groups: "Asian American Voices"; "African American Voices"; and "Hispanic Voices."
Moreover, the NLN has taken a comprehensive approach to cultivating diversity within nursing and nursing education. Among its more visible models is the League's Center for Diversity and Global Initiatives under the direction of Dr. Virginia Adams. Collaborating with organizations here and abroad, the center works to advance global health and nursing education, generate publications and research, and strengthen efforts to increase nurse educator and student diversity and inclusivity. One such venture is the NLN's leadership role in the ICN Nursing Education Network, which brings together nurse educators from around the world to explore best practices to prepare a globally diverse workforce of educators, scholars, and researchers.
Editors/Reporters: For interview opportunities with Dr. Malone, please contact Karen R. Klestzick, chief communications officer at the NLN, at 202-909-2483.
Dedicated to excellence in nursing, the National League for Nursing is the premier organization for nurse faculty and leaders in nursing education. The NLN offers professional development, networking opportunities, testing services, nursing research grants, and public policy initiatives to its 40,000 individual and 1,200 institutional members. NLN members represent nursing education programs across the spectrum of higher education, and health care organizations and agencies.