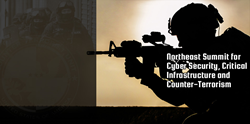 We are excited to be bringing this important summit to the Northeast for the first time. - Richard Dion, Managing Director, Global Threat Research
Plymouth, NH (PRWEB) August 04, 2014
Some of the country's top federal, state, and local authorities for a wide range of counter-terrorism subjects, will be speaking at The Northeast Summit for Cyber Security, Critical Infrastructure, and Counter-Terrorism at Plymouth State University on Friday, October 3, 2014.
Global-threat Research, LLC (GtR) is presenting the summit for law enforcement and emergency management personnel, first responders, infrastructure companies and utilities, as well as other interested parties who must keep up with issues that affect them and their communities.
Focus of the summit will be the three topics that concern most of the nation's counter terrorism authorities. Speakers headlining the summit include Federal Bureau of Investigation S.A. Michelle Morey, who will speak on critical infrastructure protection, and Plymouth State University Assistant Vice President and Chief Information Officer Richard Grossman will be speaking on cyber crime prevention and strategies.
Also, Plymouth State University Police Department Special Investigator Jennifer Frank will speak on social media issues and US Secret Service S.A. Daniel Pond will speak about counter-terrorism. Other speakers will include Steven Emerson from the Washington, DC-based Investigative Project on Terrorism. His topic will be international and domestic terrorism; the connection and effects.
Plymouth State University President Sara Jayne Steen and Director of New Hampshire Homeland Security/Emergency Management Perry Plummer will also address the assembly along with several other dignitaries.
The Summit is being produced by the Global-threat Research team led by Managing Director Richard Dion, PhD. It will be held at the Welcome Center and Ice Arena on the campus of the University.
More information from:
Richard Dion: rich(at)gt-research(dot)org
Bernie Marvin: berniemarvin(at)gmail(dot)com
Website:http://www.gtresearch.org
Global-threat Research LLC
One Bridge Street
Plymouth, NH 03264
603-536-5100