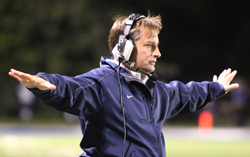 For us, safety and performance were the two key factors. The addition of the Legion system from Shaw Sports Turf gives us what we were looking for.
Little Rock, Arkansas (PRWEB) July 31, 2014
Pulaski Academy is installing a new Shaw Sports Turf field featuring the Legion system.
The private school, which has garnered increasing attention for its football coach, Kevin Kelley, who never punts and always onside kicks, will have the new field ready in time for the upcoming season.
Pulaski Academy, founded in 1971, has approximately 1,400 students.
"For us, safety and performance were the two key factors," said Matthew J. Walsh, President and Head of School. "The addition of the Legion system from Shaw Sports Turf gives us what we were looking for."
Walsh also said that the addition of the new field provides a boost to the athletic program in other ways, as well.
"We take pride in our athletic programs and our athletic facilities," said Walsh. "Everyone is excited about the new field and we believe it will increase and enhance support for Pulaski Academy."
Pulaski Academy is installing Shaw Sports Turf's Legion system, which is a combination of high-performance monofilament fibers and a durable slit film fiber. The slit film fiber is a workhorse which will handle the workload, while the monofilament provides a more resilient surface that enhances performance characteristics. The Legion system is also used on the game and practice fields at Vanderbilt University.
The new surface at Joe B. Hatcher Stadium is being installed by Symmetry Turf of Mount Pleasant, Texas, and will be used for football and soccer, as well as other student activities.
"Pulaski has a proud tradition of academic and athletic excellence," said Wynn Vinson, Territory Manager for Shaw Sports Turf. "It says a lot that they chose Shaw Sports Turf for their playing surface."
For football coach and athletic director Kevin Kelley, it's an opportunity to improve on his 11-year head coaching record of 125-18-1, with three state championships.
"The Shaw Sports Turf field is a definite advantage for us," said Kelley. "With the emphasis on concussions, we feel like it gives us a safer playing surface. It cuts down on abrasions. It also offers what we need in terms of performance. I like to practice on the field where we play, so we're able to have practices and games, while still making the field available for other activities without having to let it recover, like you would with a natural grass field."
Kelley has built his program with hard work, talented athletes, and contrarian thinking. Kelley models his game plan on data and from the day he took over as head coach, he asked, "Why do we do things?" Kelley says it's almost inconceivable that a coach would only use 75% of the downs allotted to his offense. Just because everyone else punts on fourth down, doesn't mean your team has to follow suit.
Kelley, a fan of authors like Malcolm Gladwell and books like Freakonomics, explains the odds.
"Let's say if you're on your 5-yard-line and it's a 4th-and-7 situation," he said. "You need to make it out to the 12-yard-line to get a first down. Well, I know this – that if we go for it on fourth down and don't make it – our opponent takes over and has a first-and-goal from the 5-yard-line. The math shows that in that situation, they have a 92-percent chance of scoring a touchdown.
"But, if we don't even try to go for it on fourth down and we punt the ball from the end zone, with the average net punt, our opponent will get the ball somewhere around the 40-yard-line. From our 40-yard-line, the opposing team will still have a chance of scoring a touchdown from that distance. The number is that high, according to the data.
"So, if we punt, we're virtually assuring that the opponent scores points. But, if we convert that fourth down, then we keep the drive alive and stop them from scoring in the process. Right now, our offense is at about a 50-percent conversion rate on fourth down. It's a 50-percent chance of keeping our drive alive, versus a 77% chance of them scoring if we punt. Which way do you think I'm going to go?"
From that philosophy, Kelley has also developed a philosophy of always attempting to onside kick. Kelley ran an analysis of kickoffs and discovered that, on average, his teams were giving the opponent the ball at the 33-yard-line following kickoffs. If his teams onside kick and do not get the ball, the opponent gets the ball, on average, at the 47-yard-line. This represents a difference of only 14 yards of field position, so Kelley feels like it is worth the shot.
Kelley maintains that the turnover battle is a critical component of winning games and he views getting an onside kick as a turnover, because it takes away the opposing team's chance at running offensive plays. Kelley says the team that wins the turnover battle, wins the game 70% of the time.
Kelley's teams maintain an average of 20% success on onside kicks, which he believes gives his teams a great advantage. In one game, Kelley's Bruins scored four touchdowns before the other team ever touched the ball offensively.
Kelley believes his special teams philosophies also help the team's overall game, because instead of taking so much time to practice special teams, they are able to focus on other practice needs.
Kelley has been featured on ESPN, NFL Films, Fox Business News, National Geographic's Brain Games, and in articles in the Wall Street Journal and New York Times.
For now, though, his focus is on the upcoming season. The team's first home game is not until October 3 and that is when they will go for it on a new Shaw Sports Turf field.
About Shaw Sports Turf
A wholly-owned subsidiary of Berkshire Hathaway Inc., Shaw Industries is a full flooring provider to the residential and commercial markets. Shaw supplies carpet, hardwood, laminate, resilient, and tile/ stone flooring products, as well as synthetic turf. Shaw Sports Turf is one of the leading synthetic turf companies in North America and has represented quality and innovation for more than two decades with over 1,500 successful installations, including an impressive list of high-profile field installations. For more information please visit http://www.shawsportsturf.com, call 866-703-4004 or find us on Facebook.