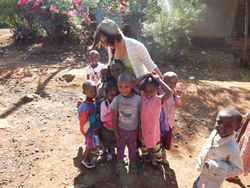 Watching these kids is amazing. They are so brave and willing to take huge risks with a total stranger, just to live a better life.
New York, NY (PRWEB) August 11, 2014
Singer, Masha Alexis never liked taking the easy road and next week is no exception. Right after emerging from recording at the legendary Quad Studios in New York City, with producer Chris Young, she is leaving for Moshi, Tanzania. This is her fourth trip in just over a year, where she works to connect sick children and adults with much needed medical care.
But this trip is a little different from the other three because she gets to return with her newest single "Jumper" inspired by all the children she's worked with.
Masha Alexis first visited Tanzania in June, 2013 where she volunteered with a local organization called Jipe Moyo, a program that provides services for women with chronic health conditions and supports a nursery school for their children. "I didn't agree with paying some large company to send me to Africa and stay in a nice house and volunteer a few hours a day. That doesn't feel like volunteering. So I went and stayed in a hostel and found an Tanzanian run organization that needed help."
The biggest problem that she noticed was getting patients access to more qualified doctors and specialized treatments that are not available in their region. One of these patients was12 year old Benson Mushi. When she met Benson, he was almost paralyzed with spinal tuberculosis. He had visited every hospital in his region and no one could provide a diagnosis, much less do his complicated spinal surgery.
That's where Ms. Alexis came in. She connected Benson with Dr. Ohenebe Boachie-Adjei, surgeon from New York City's Hospital of Special Surgery and founder of FOCOS Hospital in Accra, Ghana. Dr. Boachie generously donated Benson's spinal surgery and successfully placed 8 metal implants in Benson's spine that enable him to walk, play, return to school, and live the life of a healthy little boy.
This amazing little boy is the inspiration for her new single "Jumper". "Watching these kids is amazing. They are so brave and willing to take huge risks with a total stranger, just to live a better life." The new single will be ready to take with her to Moshi, to play for all the kids. "I really hope they like it."
But the story isn't over for Benson and the other children like him. The World Health Organization estimates that there are approximately 60,000 new TB cases annually in Tanzania. The number of children with spinal tuberculosis is unknown, but there are hundreds that need surgery. Additionally, after surgery these children need education because they will always be physically unable to perform labor-intensive jobs common in rural Africa. Benson, is the first to be placed in school, currently attending Moshi Academy, an English speaking boarding school.
For more information about Benson's surgery or to donate, visit http://www.youcaring.com/Bensonsspinalsurgery or join facebook group "Help a Tanzanian Boy Get Spinal Surgery."