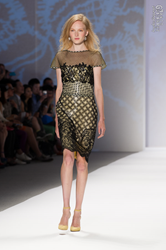 'I am a pattern maker - I can make any woman look good.' - Tadashi Shoji
New York City, New York (PRWEB) July 31, 2014
Designer Tadashi Shoji explores a variety of textures and styles in his Spring/Summer 2014 collection that will keep any summer wardrobe trendy and exciting. When asked by FashionMingle.net about new techniques used by the designer in his Mercedes-Benz Fashion Week collection, he showed how he used five different lace and embroidery peices to create one exquistely designed dress. Shoji created the original lace and embroidery designs and combined them with a mix of patterns and palettes for a truly unique collection.
In a recent article, FashionMingle.net Editor, Gerilyn Hayes reviews the collection with a fresh look for summer inspiration and notes that an exceptional dress in black floral lace with a soft, yellow slip stood out in the sea of the traditional pastel color pallets and would effortlessly transition into your fall wardrobe.
Shoji's collection of dresses were not without the most essential summer material: mesh. The upper bodice of drop waist and floor length gowns showcased sheer mesh material that added a delicate freshness to each look. With both tasteful and feminine exposures of skin the collection was both fun and flirty with a delicate grace.
Tadashi Shoji is a red-carpet favorite, recently dressing celebrities such as Mindy Kaling at the People's Choice Awards, and Drew Barrymore during the Berlin release of her latest movie "Blended".
Shoji, who celebrated his 30th year as a designer in 2013, has also never shied away from dressing a voluptuous figure. While many designers refuse to provide dresses for actresses who are considered plus-size, Tadashi Shoji has embraced designing for actresses such as Octavia Spencer and Christina Hendricks, saying, "I am a pattern maker - I can make any woman look good."
From demure drop-waist lace dresses, to daringly mixed prints and patterns, the Tadashi Shoji Spring / Summer 2014 collection will serve as instant inspiration for classic summer events from wedding receptions to evening socials.
About FashionMingle.net
FashionMingle.net is a network for fashion entrepreneurs to share, discover, and mingle. The business directory and social network creates a PR platform for fashion entrepreneurs to promote their services and grow their business. More information can be found at FashionMingle.net.