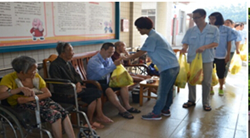 (PRWEB) July 31, 2014
Perhaps some people are unaware of getting old. However, the truth is that we are getting old from the first day when we were born on earth. Human beings will experience a lot of ups and downs during their whole life. Some people may live without children in their old age. In some countries (like China), it is not necessary for people to worry about that. A lot of reliable enterprises are there to help; FODAY Auto, a famous China automobile manufacturer, is one of them. The company is not only manufacturing SUVs and pickups; it is also taking its responsibilities to build a better society. It did something meaningful last week.
On July 25th, some of FODAY Auto's members went to a nursing home in Shishan, Nanhai District, Foshan, P R China. They helped the elderly to clean the room and courtyard. In addition, they chatted with the old people to make them happy. Some pictures are shown online.
Those who are interested in FODAY Auto and its products can learn more on its website: http://www.fodayauto.com.
GUANGDONG FODAY AUTOMOBIEL CO.,LTD
FODAY Auto new SUV and Pickup
http://www.fodayauto.com
We chat No: fodayauto