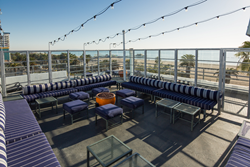 From Suite 700, The Dining Room and poolside in the lush Garden Courtyard, we offer full bar and food service, and our ever popular weekday Happy Hour to suit every mood and taste
Santa Monica, CA (PRWEB) August 01, 2014
Long famous for its 180 degree ocean views from Catalina to Malibu, Hotel Shangri-la at The Ocean knows that longer summer days mean people want more time to relax and indulge their passions at Santa Monica's 'anything but ordinary' hotel. Newly extended hours of operation are definitely better suited for gazing at the expansive ocean views from Penthouse Suite 700, sharing a cool drink and conversation poolside in the hotel's lush Garden Courtyard or dining and drinking indoors or outdoors at the hotel's oceanfront Dining Room.
Suite 700 Penthouse Bar & Lounge
Suite 700 is now open from 12 noon to the wee hours on Fridays, Saturdays and Sundays to serve a wide selection of beverages and specially prepared small plates. From Monday through Thursday, Suite 700 is open from 4 pm to late night. To add to the experience, Happy Hour in Suite 700 is available from 4-7 pm weekdays serving drinks and small plates. Whether sitting inside or outside on the roof deck near the fire pit, visitors can indulge their senses as they gaze at the ocean views, enjoy the soft breeze and relish in the refreshing taste of their favorite beverages and savory appetizers. For everyone's enjoyment, please note that shorts, tank tops and sports hats are not permitted in Suite 700.
The Dining Room
The ocean view Dining Room continues to offer delicious culinary choices seven days a week. Breakfast is served from 7-11 am; Lunch from 11– 5 pm and dinner nightly from 5– 10 pm. Brunch is available on Saturdays and Sundays from 9 am–3 pm. Hotel Shangri-la's Happy Hour is a local favorite, with beverage and small plates available at the Dining Room Bar from 4-7 pm Monday through Friday.
Lush Garden Courtyard & Bar
For a more intimate experience, the hotel's lush Garden Courtyard offers a full-service bar poolside, comfortable lounge chairs and tables for a respite. Beverages and small plates are available 7 days a week. Sunday through Thursday hours are from 11:30 am to 7 pm and until 10 pm on Fridays and Saturdays. The Courtyard also features the unique Sybaris Rejuvenation Lounge where luxury and harmony abound.
"Hotel Shangri-la offers the best of all possible worlds with its close proximity to the Pacific Ocean, with a selection of choices for visitors who want to enjoy a Lush Life," said Henri Birmele, Managing Director for Hotel Shangri-la. "From Suite 700, The Dining Room and poolside in the lush Garden Courtyard, we offer full bar and food service, and our ever popular weekday Happy Hour to suit every mood and taste. For an ultimate relaxation and renewal, visit the Sybaris Rejuvenation Lounge for an unparalleled spa experience."
About Hotel Shangri-la
Hotel Shangri-la at the Ocean in Santa Monica is anything but ordinary and a member of Small Luxury Hotels of the World. Overlooking the Pacific since 1939, the hotel is a striking beacon of Art Deco elegance, a chronicle of the golden era of Hollywood and a quintessential nexus of culture. Hidden away on a high Santa Monica bluff overlooking the ocean and historic Santa Monica Pier, this timeless luxury boutique hotel promises guests their own personal Shangrila. Guests enjoy brilliant views of the Pacific Ocean, a celebrated history and a cultural connection during their stay. In the U.S., for toll-free room reservations only, please call (800) 345-STAY (7829) or for more information, visit http://www.Shangrila-Hotel.com.