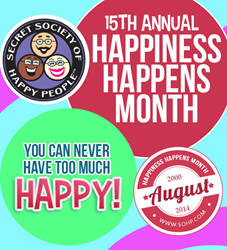 Happiness happens and we need to notice it. When we do we're naturally happier.
Dallas, TX (PRWEB) July 31, 2014
The Secret Society of Happy People will be celebrating the 15th Happiness Happens Month with a 31 Day Challenge.
The idea of the challenge is to help people develop a happiness habit. We're starting the challenge on August 1 by toasting in the month with pink lemonade (or other beverage that makes you happy). Other activities include singing out loud, skipping and stargazing.
"There's so much emphasis on science and happiness that we often forget sometimes happiness simply happens when we aren't even trying to find it. It's just there and we often take it for granted," says Pamela Gail Johnson, Founder of the Secret Society of Happy People.
The Society provides lots of celebration options at the Society website (http://sohp.com) including:

Participate in the Happiness Happen Month 31 Day Challenge (https://www.facebook.com/events/253541134843239/)
Become a Happiness Happens Month Ambassador ~ Get Access to Secret Happy Stuff & Activities
Pass out Silver Kisses ~ Because Happy People Naturally See Silver Linings
Do the 31 Types of Happiness Counter ~ Literally Count Your Happiness
"One of the goals for Happiness Happens Month is to increase our happy conversations. This naturally happens if we notice our happiness when it happens. If we start developing a happiness habit in August it helps us notice happiness the rest of the year. Our busy and stressful lives make it easy to forget all of the things that are right and make us happy," says Johnson. "Like all good habits we have to make efforts to recognize happiness so we can value it."
August was originally declared Happiness Happens Month in 2000 and is an annual tradition for the Secret Society of Happy People. August 8th will be the 16th Happiness Happens Day.
To sign up for the Happiness Happens Month activities, go to http://sohp.com/society-celebrations/happiness-happens-month/. Another option for people to share a token of happiness with family and friends is to share "happicons" via email, Facebook, Twitter, Google+ and Pinterest. The 31 "happicons" can be shared via http://sohp.com/what-is-happiness/happicons/.
About The Secret Society of Happy People:
Pamela Gail Johnson founded the Secret Society of Happy People in 1998 to encourage the expression of happiness and discourage parade-raining. The Society has thousands of members from more than 34 countries. Ms. Johnson is a public speaker for organizations and companies around the country who want to promote happiness among their members or employees. The Secret Society of Happy People offers free membership to anyone interested in learning how to improve their happiness quotient. The free membership includes a downloadable Happiness Word Poster, a monthly Happiness Happens newsletter and an optional Daily Happiness Inspiration email. The society also offers videos, books and daily inspirations to promote happiness.
Media Contact:
Pamela Gail Johnson
(972) 459-7031
(469) 358-3914
[email protected]