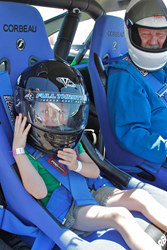 This is an event that's so much bigger than business, and we're grateful for the opportunity to participate and help raise money for such a great cause.
Deer Trail, Colo. (PRWEB) July 31, 2014
This weekend Connect First will participate in the 4th Annual Race Against Kids' Cancer at the High Plains Raceway in Deer Trail, Colo. Over the past three years, the race has raised over $225,000 for the Morgan Adams Foundation, an organization dedicated to pediatric cancer research. This year's goal is to raise $87,000 for the purchase, installation, and service of a Flow Cytometer, a piece of analytical equipment which allows physicians to better understand, diagnose, and treat tumors more effectively.
"The Race Against Kids Cancer is an amazing event that does so much good," said Connect First COO, Dan Candee. "This is an event that's so much bigger than business, and we're grateful for the opportunity to participate and help raise money for such a great cause."
The weekend (Aug. 2-3) promises to be a premier event. Main features of the weekend include:

The Fourth Annual Race Against Kids' Cancer to benefit the Morgan Adams Foundation
Once again, Formula Ford will be the featured grid. We will be inviting Formula Fords representing all four decades, both vintage and contemporary, hoping to top last year's 39 car grid. It should be a huge grid showing the evolution of this ever-popular series.
Paid rides in race cars always deserve special mention. On Saturday and Sunday, during the lunch hours, we'll have some very special race cars with passenger seats which donors may purchase in order to have the ride of a lifetime. These will sell out early since the number of cars available and time on track is limited to the lunch hour. Buy your Ticket to Ride at the track.
The Morgan Adams Grid Girls will be back in 2014! Sign up and make a donation at the races to have a gorgeous grid girl keep you cool under an umbrella while you're waiting for your start on the grid. With your donation, you will receive a keepsake photograph to share with your family and friends.
There will be special events and activities all weekend in the paddock for kids, adults, spectators, and racers.
Saturday Night Dinner/Concert – As usual, tickets for the dinner are available to purchase by racers upon event registration. If you are attending as a spectator and wish to enjoy the Saturday evening dinner and bluegrass/country music concert, please purchase tickets in advance, below. Tickets will be at the registration desk under your name. All dinner ticket proceeds go to MAF!
Cancer is the leading cause of disease-related deaths in children under 20 and diagnoses of brain cancers and other central nervous system tumors continue to rise by more than 25%. For more information on the event and how to donate money to the cause, please click here.
About Connect First: Connect First is an award-winning SaaS telecommunications and cloud contact center software provider that focuses on customer satisfaction and elegant hosted solutions. Connect First offers a robust platform, designed and supported by a team of highly experienced engineers, designers and business analysts, and backed with personalized in-house customer care. Solutions include Cloud Routing, Inbound ACD, Outbound Dialing, Call Tracking, Interactive Voice Response (IVR), Voice Broadcast, Disaster Recovery, Predictive Dialer, Real-Time Telemetry, CDR Reporting, Live Agent Chat and more. Through a consultative approach with each customer interaction, Connect First builds customized solutions to meet the needs of a discerning customer base. Visit http://www.connectfirst.com for more information or a free consultation with a contact center solutions expert.