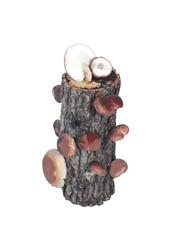 Sawdust-grown mushrooms are good; log-grown shiitakes are better. All shiitakes are good and good for you -- eat 'em and feel good.
Perkins, OK (PRWEB) July 31, 2014
Shiitakes have been called "The workhorse of the gourmet mushrooms." As in the recipe for Quick-Fix Spaghetti Sauce below, they cook up in 5-10 minutes. They are the second-most consumed mushroom worldwide, valued for their deep flavor -- four to ten times that of white button mushrooms. They absorb flavors of the foods they're cooked with, so they add variety. They have a meaty texture and offer high-protein, low-fat nutrition. Shiitakes are rich in fiber and contain a fat-absorbing compound that supports weight loss.
According to Sandra Williams, Ph.D., The Mushroom Lady, "We need fat in our diets. We need it in the winter because we want our bodies to generate more heat. But in the summer, we want to eat lighter -- and we want dishes that are fast and easy to fix. Healthy fats like butter and olive oil keep our bodies working smoothly without accumulating in our tissues."
Shiitakes have health benefits that put them at the top of the list in medicinal mushrooms. They strengthen and stimulate the immune system. Shiitakes have been shown to regulate blood pressure, reduce cholesterol and ease chronic fatigue syndrome.
Dr. Williams is the owner of Lost Creek Mushroom Farm and a strong advocate for eating a variety of mushrooms. "Shiitakes are a truly functional food in their nutritional and health benefits, enabling the body to maintain a higher level of health. And, they have properties that create feelings of joy and well being. A super food!"
Most commercial shiitakes are grown on sterilized, composted sawdust inoculated (seeded) with shiitake spawn, the seed material. The process takes about six weeks from inoculation to first harvest. When they are sold in 2.5 oz to 8 oz quantities in grocery stores, the cost can run $20 a pound and up. They are available all year because they are grown indoors in controlled, sterile conditions.
For log-grown shiitakes, the grower uses oak and other hardwood logs. She or he drills holes, injects the spawn, seals the holes with hot wax and then keeps the logs shaded and watered for 6-8 months before the mushrooms pop out. Log-grown shiitakes can sell from $7 to $12 a pound at farmers' markets. They may not be available in summer and winter months.
"We just had a rainy cool snap and thousands of shiitakes popped out of our logs. Wow!" Sandra said.
Where can consumers get log-grown shiitakes? "A backyard shiitake garden is the best way," she laughed, "but certainly not the easiest! Farmers' markets are a good source because local growers sell them cut fresh from the logs. Specialty grocery stores and local health food stores may carry log-grown shiitakes.
"We sell shiitake log kits that grow shiitakes every 2 months or so year-round for 3-4 years, with increasingly larger harvests through the first and second years. Harvests start small, about ¼ pound, and can produce a pound or more per fruiting as the log matures. They live in the house like plants or outside in shade, and require regular soaking in non-chlorinated water. Soaking them in ice water starts the mushrooms. Gardeners love our shiitake logs."
Kits range in price from $18 for the 6-inch 'Shroomie to $80 for a two-log kit with 14" logs and soaking trays. Logs 9-10" and larger are fully guaranteed. See kits, care and pricing here.
Quick-fix Spaghetti Sauce! Use 5 or 6 log-grown shiitakes or about 4 oz of sawdust-grown shiitakes. Remove the stems. Over low heat start cooking your favorite oil (we use 2 tbsp olive oil and 2 tbsp butter. Add more if needed.). If you are using onions or garlic, sauté them before you add the mushrooms to enhance the mushroom flavor. Cut the shiitakes into bite-sized pieces or slices. We use scissors and cut them into wedges, then sauté them 6-8 minutes. Watch us cook 'em. They're done when they're tender and moist. If you want them crispier, let them get a little brown around the edges.
Pour in a jar of your favorite mushroom sauce, cover, and stir to heat it through.
To see more recipes, learn more about shiitakes or order a log kit, visit Lost Creek Mushroom Farm at http://www.shiitakemushroomlog.com. Kits are available at Amazon.com at slightly higher prices. Order by phone or request a brochure at 1-800-792-0053.