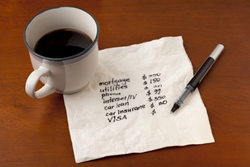 A low credit score, which tends to be a top concern among buyers, was ranked third.
Chicago, IL (PRWEB) August 01, 2014
The Federal Savings Bank has been informing its prospective mortgage applicants that recent data from credit score calculation software company FICO found that debt-to-income ratios are the top factor that risk managers cite as a cause for loan denial.
When home buyers apply for a low cost mortgage The Federal Savings Bank, several factors are considered, including employment history and credit history. However, of 203 risk managers from the U.S. and Canada, 58.8 percent said that DTI is the variable that is most likely to cause them to deny a loan. Multiple recent applications followed at 12.6 percent.
A low credit score, which tends to be a top concern among home buyers, was ranked third, at 10.4 percent. Frequent job changes and lack of savings followed at 9.3 percent and 8.8 percent, respectively.
According to a Washington Post July 18th release titled "Debt ratios, not credit scores, are the most worrisome factor for mortgage applicants"; the higher focus on DTI could be the result of the Consumer Financial Protection Bureau's Qualified Mortgage rule, which came into effect in January under the Dodd-Frank Wall Street Reform and Consumer Protection Act of 2010. This law set a 43 percent maximum for DTI if lenders are to adhere to the QM rule, which has caused some loan providers to impose stricter standards.
The Federal Savings Bank understands the difficulty and paperwork associated with applying for a home loan. However the lender's loan officers are more than ready to go the extra mile to assist during the application process. Now is the time to purchase a home while both prices and sales are rising because it may not be long before mortgage rates trend to new highs given the strengthening economy.
For more information about your mortgage eligibility, contact the Federal Savings Bank, a veteran owned bank.