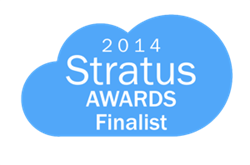 The fact that StaffingBoss is the only recruiting CRM/ATS to be singled out for tech innovation at this year's awards is a huge honour.
Silicon, Singapore (PRWEB) August 01, 2014
HRBoss, the Asia-based software provider for the staffing and HR professions, has been named as a finalist in the 2014 Stratus Cloud Awards. Organized by The Business Intelligence Group, the awards called out the HRBoss ATS/CRM solution for recruitment firms, StaffingBoss, as one of the 53 Cloud solutions that matter across all industries, verticals, and geographies for 2014. Notably, StaffingBoss was the only recruiting technology platform to make the cut of this year's list of tech innovators.
"We are proud to reward StaffingBoss in the 2014 Stratus Awards," said Dawn Fordyce, managing director of the Business Intelligence Group. "StaffingBoss is clearly leading the market in delivering real value to their end customers by leveraging the Cloud."
Speaking today, Bernie Schiemer, CEO of HRBoss and Chief Architect of the StaffingBoss product, said, "The fact that StaffingBoss is the only recruiting CRM/ATS to be singled out for tech innovation at this year's awards is a huge honor. The benefits to our clients of being on a true multi-tenanted SaaS, Cloud platform are undisputed: faster deployment of product upgrades, increased agility, and faster go-to-market. Today, we compete with companies like Bullhorn, Bond Adapt, JobScience and many other providers. We encourage anyone thinking about new software for their recruiting business to speak to them, then speak to us. In that order."
Schiemer added, "Our design and product teams are constantly making enhancements to StaffingBoss and releasing these quickly, therefore minimizing impact on our customers. Software is no longer a feature war, it is all about our velocity to develop and ability to support. With 12 people working full time on StaffingBoss forever, we are working year round, relentlessly improving the product. In addition, we have 75 people on the ground, 6 sales offices, and 4 training centers across the region. That's an infrastructure that none of our competitors can match, and it's why companies such as Michael Page and Randstad have chosen StaffingBoss for their growing Asian businesses. StaffingBoss is the first global recruiting platform to start their business in Asia, we look forward to servicing customers in Europe and the US when we start operations in both locales early next year."
The Stratus Awards, hosted by The Business Intelligence Group, recognizes innovation in the Cloud and rewards organizations that help to accelerate the development and adoption of Cloud-based services. Nominations were evaluated by 25 volunteer expert judges consisting of seasoned business leaders, each vetted by the Business Intelligence Group employees and select advisers.
Spearheading R&D activities from their HQ in Singapore, HRBoss is the first Asian company to be recognized for continuous innovation in the Cloud at global tech industry awards since being founded 2011. The HRBoss suite of solutions currently includes 3 products: HiringBoss, their flagship applicant tracking solution for corporate HR, EmployeeBoss, the workforce analytics platform for businesses of 500+ employees, and StaffingBoss, their award-winning platform for recruiting businesses. HRBoss was named 'Technology Company of the Year' earlier this year at the Asia-Pac Stevie Awards, and honored for HR tech innovation at the inaugural ReSI awards.
To view the full list of finalists, visit http://bigawards.org/.
About HRBoss:
HRBoss is Asia's leading provider of data-driven software for corporate HR and the recruiting industry. Born in Asia in 2011, HRBoss is headquartered in Singapore and maintains presence across the globe with offices throughout the Asia-Pacific region in 7 countries today (Singapore, Japan, Vietnam, Indonesia, China, Malaysia, and Hong Kong). All HRBoss Cloud solutions are intuitive, highly-configurable and are supported locally on-the-ground across Asia. Clients include world-leading organizations and government agencies like Michael Page International, Randstad, Changi Airport Group, Nissan, Audi, Allergan, the Monetary Authority of Singapore (MAS), and the Economic Development Board (EDB).
About the Business Intelligence Group:
The Business Intelligence Group was founded with a mission of recognizing true talent and superior performance in the business world. Unlike other industry award programs, real business people with experience and knowledge judge our industry awards programs. The organization's proprietary and unique scoring system selectively measures performance across multiple business domains and rewards companies whose achievements stand above those of their peers.