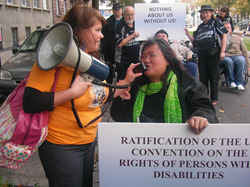 Over 145 countries have ratified the Convention on the Rights of Persons with Disabilities, yet the U.S. is yet to do so. This is unacceptable and unconscionable.
Miami, FL (PRWEB) July 31, 2014
PhotoAbility feels that powerful messages imparted through imagery will bring about important social change with increased access and rights. Similarly, a US ratification of the CRPD sends a powerful message to the world that people with a disability must be treated as equals and that social change has to be global.
The CRPD recognizes that equality, autonomy, independence, accessibility, and inclusion are key to ensuring that people with disabilities are able to enjoy the same human rights across the world.
"As of July 2014, over 145 countries that belong to the United Nations have ratified the Convention on the Rights of Persons with Disabilities, a disability rights treaty, yet the U.S. is yet to do so. This is unacceptable and unconscionable as it will negatively affect so many who could have been uplifted and protected due to its implementation." - Deborah Davis, Owner of PhotoAbility.net and a woman with a disability
"I take discrimination personally, I know first-hand what discrimination feels like and this is the reason I feel so strongly that the US ratifying the UN Convention on the Rights of Persons with Disabilities is a critical piece of the inclusion solution of all people into the puzzle we call society. Of the seven billion people, one billion are people with disabilities, a full 15% of the global population. Right now we have an opportunity support the ratification effort in the US." - Candace Cable Paralympian in 3 Sports, 12 time Medalist, Inclusion Activist.
The Senate Foreign Relations Committee voted 12-6 on July 22 to send the Convention on the Rights of Persons with Disabilities to the full Senate. The next step is a vote on ratification in the Senate. In 2012, the ratification vote fell five votes short of the required two-thirds needed or sixty-seven votes. The vote needs to be taken by Friday before the Senate takes their summer recess.
PhotoAbility implores its contributors, models and customers to contact their representatives and ask them to support the ratification of the CRPD.
Call Senator Harry Reid's DC office today at 202-224-3542 and tell the staff person you want him to schedule a floor vote on the CRPD ASAP (preferably this week!). Hundreds of activists marched through Washington, rallied outside the Capitol, and filled the Hart Senate Office Building yesterday to demand a vote on this treaty for Disability Rights, so your call will help amplify the momentum to get this accomplished.
United Spinal Association has an action alert here to help you contact your Senators: http://capwiz.com/actioncenter/issues/alert/?alertid=62217796.
About PhotoAbility:
PhotoAbility was established in March 2012 by Deborah Davis and Bill Forrester with the goal of providing high quality, unique, non-medically oriented imagery of persons with disabilities for purchase by the advertising, marketing, and media sectors. The Commercial Stock Image Library specializes in positive and "Inclusive" images of people with a disability in leisure, lifestyle, and travel settings.
The 2500+ inclusive images depicted in the PhotoAbility gallery are designed to impact attitudinal bias, change perception, and provide motivation to eliminate social, structural, and professional barriers. A wave of change reflected in popular media and advertising can make an impact on laws and attitudes around the globe, and on how many people with differing abilities view themselves.
For more information and to view PhotoAbility.net's positive, inclusive Stock Images, please visit http://www.PhotoAbility.net.