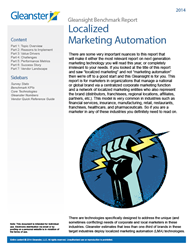 Pleasanton, CA (PRWEB) July 31, 2014
Gleanster Research announces the publication of the new 2014 Benchmark Report on Localized Marketing Automation, which provides a comprehensive look at the unique technologies designed to support a national or global brand with a central corporate marketing function and a network of local marketers and affiliates. This is a continuation of Gleanster's coverage of Marketing Asset Management and Distributed Marketing.
This 30-page Benchmark Report on Local Marketing Automation highlights the experiences and intentions of 350+ companies and features analyst commentary on 36 Localized Marketing Automation solution providers. "Localized Marketing Automation technology addresses the unique needs of specific industries such as financial services, insurance, franchises, retail, manufacturing, and pharmaceuticals," says Ian Michiels, Principal Analyst at Gleanster and the report author.
"In many cases marketers in these industries don't consider themselves distributed marketers. The problem today is technologies designed for a single marketing function cannot scale to meet the needs of a localized brand. Bottom line, you can't deliver a compelling customer experience. Problems manifest themselves as redundant spending in corporate and local marketing, brand consistency challenges, generic messaging, and lack of visibility on marketing effectiveness."
"This report is a must read for marketers in these industries, and it showcases the rapid evolution of a software category that was largely non-existent 5-10 years ago. But it's going to revolutionize local marketing efforts for national and global brands," says Michiels.
This powerful report features vendor reviews of 29 LMA vendors, an analyst perspective on each, and vendor rankings based on the experiences of end users. Ad Giants, Adgistics, Adobe, Balihoo, BrandMaker, Brandmuscle, Brandworkz, Capital ID, Chuckwalla, Code Worldwide, Data Source, Direxxis, Distribion, DPCI, Fision Online, MarcomCentral, Netsertive, NetXposure, Northplains, Pica 9, RevBase, RoboHead, Saepio, SAS, SharedVue, SproutLoud, Strata Company, Teradata, and Widen are covered in the report.
To download the report, visit http://www.gleanster.com/gleansight/2014-localized-marketing-automation
About Gleanster Research
Gleanster surveys the most effective business leaders on the planet and publishes the findings online so you can emulate their success. Our reports highlight the experiences of Top Performing organizations: why they invest in technology, how they overcome challenges, and how they maximize the value of their investments. For more information, please visit http://www.gleanster.com.